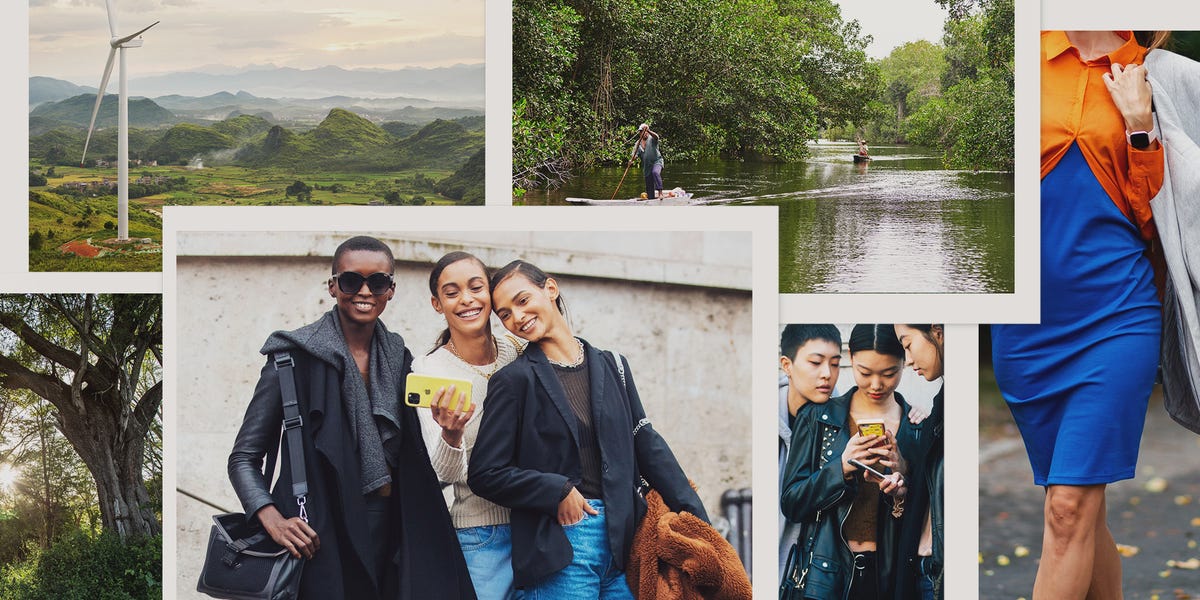 What the Fashion Industry Can Learn
Courtesy of AppleGetty Images Style Points is a weekly column about how fashion intersects with
Courtesy of AppleGetty Images
Style Points is a weekly column about how fashion intersects with the wider world.
In fashion, there's normcore, there's gorpcore, and there's even Totoro-core. And then there's carbon. It might be the most unlikely buzzword to pop up in the industry, but over the past few years it has been in circulation nearly as often as fashion's other favorite C-words, "capsule" and "collaboration." Gabriela Hearst and Gucci have held carbon-neutral runway shows, and multiple fashion brands, including Burberry and De Beers, have announced their own ambitious paths towards carbon neutrality.
One of the biggest, newest undertakings in this sphere comes from a company that is not technically in fashion—though its legendary '80s line of merch admittedly has an eager following—namely, Apple. But Apple has the fashion industry's attention, in that it feels as much like a design company as it does a tech company, and its sustainability push may influence designers to rethink their own processes. This past summer, the company committed to bringing its entire carbon footprint to net zero by 2030. Today, a week before Earth Day, it is unveiling a sweeping program called the Restore Fund, a first-of-its-kind carbon removal initiative launched in partnership with Conservation International and Goldman Sachs. The Restore Fund will invest in working forests as a form of carbon capture and help to restore millions of acres of land. (Apple previously worked with CI on conservation and restoration projects in Colombia and Kenya.)
With all the technology-driven climate solutions out there, trees might feel like a surprisingly analog vessel for a tech company to embrace, but Lisa Jackson, Apple's vice president of Environment, Policy and Social Initiatives, calls them "nature's technology." (She's not exaggerating: researchers have estimated that tropical forests hold more carbon than the past 30 years of coal, oil, and natural gas emissions have produced.) "We know to tackle climate change," Jackson, who was previously the head of the Environmental Protection Agency, says, "we not only have to stop emissions of CO2, but we have to try to remove some of the CO2 that's already in the air." The Restore Fund will do just that, removing a million metric tons of carbon dioxide from the atmosphere each year.
Apple has always been linked to the fashion industry, whether it was premiering the Apple Watch to fashion insiders at beloved Paris boutique Colette in 2014, or winning over the many fashion fans with its design aesthetic, including Karl Lagerfeld and Tom Ford. The brand sponsored a Costume Institute exhibit at the Metropolitan Museum of Art (2016's technology-focused "Manus x Machina") and collaborated with Hermès on the Apple Watch. But its biggest link to fashion may be a broader one—the dominance of design over every facet of the company. And it has shown that you don't have to sacrifice aesthetics to pursue greener pastures (literally).
This focus is something that the fashion industry, which is caught up in a moment of truth when it comes to its environmental practices, could take a few lessons from. Designer and eco-pioneer Stella McCartney says she sees innovation of the type that tech companies are doing as "the future of the conversation that we started in the fashion industry a long time ago." Technology has enabled her to fulfill her commitment to working with non-animal-derived products. Instead, she says, "I have been able to innovate and experiment with new materials, and that is what I really find exciting."
Jackson draws a parallel between the company's products and "investment pieces" in fashion. "We make these devices; people use them; they oftentimes re-sell or pass them on for a long lifetime after the first lifetime," she points out. "They're made to last. They're high quality." But it's also important to make sure that their life cycle continues well beyond the first few lifetimes, which is why Apple maintains a trade-in and recycling program and dismantles and re-processes materials to go into new products. "That is where I think any industry really needs to be thoughtful," Jackson says. "This whole idea of the circular economy and having a circular supply chain [is] very hot to talk about. It's one thing to get it back," but, she points out, you also need to think about what you're doing with what you recover. "How do you get it back into new fabrics–how do you make new fabrics out of old fabrics that are still luxe and beautiful and cutting-edge'?" In other words, you can pursue sustainability without sacrificing desirability.
And like fashion brands, Apple relies on an intricate supply chain. A common gripe I've heard from designers is that they don't have control over their suppliers. But to become truly green, Jackson says, you need to interrogate every step along the way, which is why she and her team systematically went up the chain, examining each supplier they work with and having conversations with them about greening the way they do business. "One advantage Apple has is a long history of working almost side-by-side with suppliers to really ensure that we get what we need from them." she says, "Well, we just added some more things we need!"
Rather than keep its green secrets to itself, the company is being transparent about its process in the hopes that others will follow suit. "Every other industry has had to question how they manufacture, and the fashion industry still has a lot to do," says McCartney. "It has to think differently so we aren't left behind. I am hopeful, with others embracing new technologies, that we can create real change in an industry that truly needs it."
This content is created and maintained by a third party, and imported onto this page to help users provide their email addresses. You may be able to find more information about this and similar content at piano.io