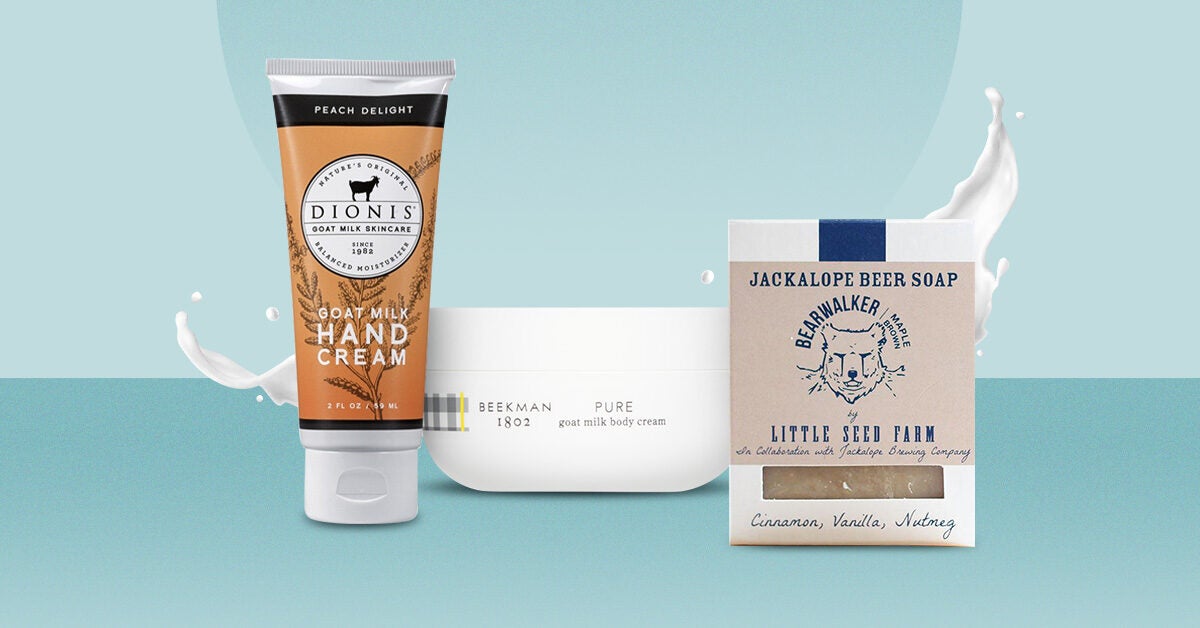 The Skin Care Ingredient You Have to Try
What if I told you about an all-natural skin care ingredient that smoothed and brightened
What if I told you about an all-natural skin care ingredient that smoothed and brightened your complexion and worked wonders on sensitive skin? What if I told you it was gentle enough for babies, but strong enough to repair sun-damaged skin? And what if I told you it came from … goats?
Yes, I'm talking about goat milk, and believe me when I say that this is the milk that does a body (and face) good.
"Goat milk has been used for thousands of years to soothe sensitive skin," explains Dr. Brent Ridge, co-founder of Beekman 1802. "It's a starting point for people who have skin issues — especially those who are doing an 'elimination diet' from all of their other skin care products and want to start a simpler routine that is kinder and gentler."
Simple, gentle skin care itself is appealing, but what about results? Good news: this sleeper ingredient is actually quite the workhorse. Much of the credit goes to the lactic acid and moisturizing fatty acids naturally found in goat milk.
If you feel like you're constantly at battle with your skin, many say goat milk skin care absolutely lives up to the name. Read on for a look at the benefits of this GOAT (greatest of all time) ingredient, plus my recommendations for the best goat milk soaps, lotions, and cleansers.
Goat milk is routinely described as a "natural" skin care product — in the best way.
"Goat milk has the same pH as human skin. So, when you cleanse with a goat milk product, you do not disturb the acid mantle, or the skin's natural microbiome," says Ridge.
That's a game-changer if you're dealing with sensitive skin issues, like eczema, psoriasis, or keratosis pilaris. While many skin care products will only exacerbate these conditions, that's not the case with goat milk.
"The skin's first response to a foreign substance is to mount an inflammatory response, which creates an obstacle for active ingredients," says Ridge. "Because goat milk is so similar to human milk, the skin recognizes it and drinks it in.''
It's the perfect delivery vehicle for active compounds — and, believe me, goat milk is full of active compounds.
"One of the special properties of goat's milk is its lactic acid content," says Nana Duffy, MD, FAAD.
This alpha-hydroxy acid (AHA) is known for its gentle hydration and exfoliation properties. Research also suggests that low concentrations of AHAs may be useful in treating sun-damaged skin. But that's not all.
"Lactic acid has been shown to increase the production of ceramides, which you can think of as the mortar between the bricks of your skin cells," explains Duffy. "When there are nice, tight junctions between your skin cells, that keeps the good qualities inside of your skin — like moisture and lipids — and the not-so-good qualities out — like bacteria and allergens."
As a natural humectant, lactic acid works like a magnet to attract and retain moisture in the skin. That means goat milk skin care products can deliver a smoother, brighter, more hydrated complexion. And isn't that what we all want from our cleansers and moisturizers?
In addition to lactic acid, "goat milk contains fatty acids that help repair the skin barrier, probiotics to encourage the growth of normal skin flora, and vitamin A to help gently exfoliate," says Dr. Purvisha Patel, a board certified dermatologist. Those fatty acids also contribute to noticeably softer skin.
And you can reap all of these benefits with a few simple product swaps.
Full disclosure: it's hard to go wrong with goat milk skin care. Companies making goat milk soaps and skin care products tend to be really proud of both their all-natural ingredients and their goats.
Still, I researched brands and products to find the ones that really stood out, and here's what made my list.
If the idea of all-natural skin care is appealing, but you don't want to sacrifice results, products made with goat milk could be just what you're looking for.
Goat milk is an incredible ingredient that, in my experience, delivers brighter, smoother complexions — even for those with sensitive skin.
After going all-in on goat milk skin care products — switching everything from my facial cleanser and moisturizer to my body soap and lotion — I can honestly say my skin has never looked better.
---
Jessica Timmons has been working as a freelance writer since 2007, covering everything from pregnancy and parenting to cannabis, chiropractic, stand-up paddling, fitness, martial arts, home decor, and much more. Her work has appeared in mindbodygreen, Pregnancy & Newborn, Modern Parents Messy Kids, and Coffee + Crumbs. See what she's up to now at jessicatimmons.com.