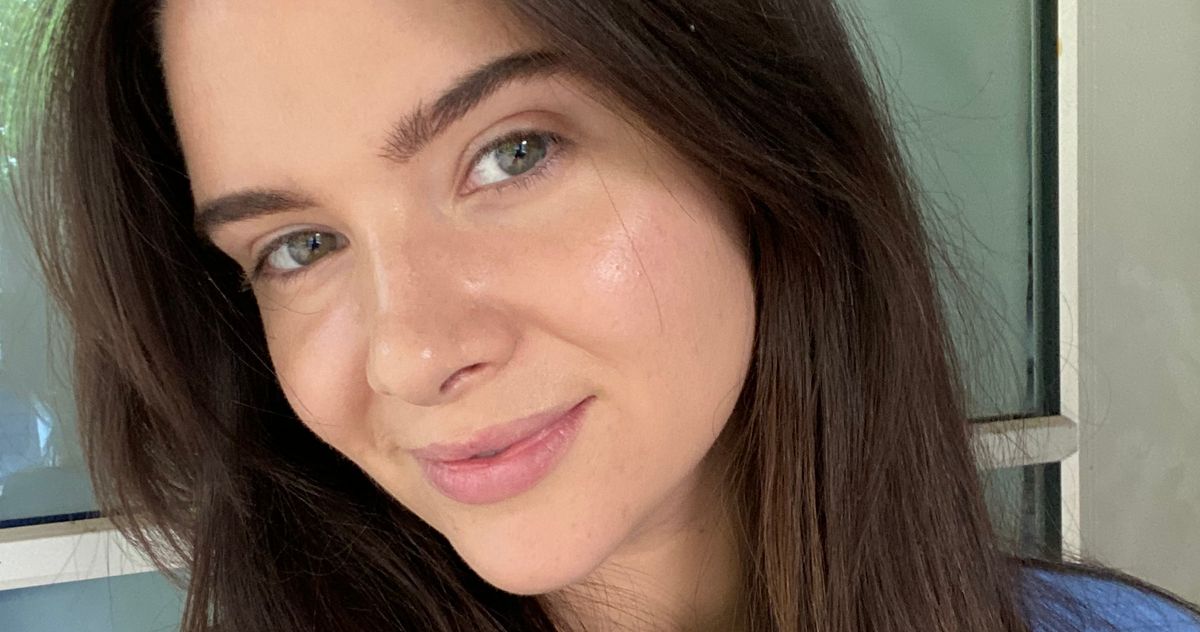 The Bold Type's Katie Stevens Skin-Care Routine for Maskne
Do you ever see someone on Instagram and think, Why is your skin so good? We do,
Photo: Courtesy of Katie Stevens
Filming the fifth and final season of The Bold Type, which premieres Wednesday on Freeform, looked a little different for Katie Stevens than it did in the past. The actress, who plays writer and yoni-egg tester Jane Sloan, and her fellow cast and crew members had to abide by strict COVID-19 protocols — except for the moments she was having her makeup done or actively filming a scene, Stevens had to wear a face mask and a face shield at all times. And while she was happy to wear them for everyone's safety, she says anxiety over her skin was constant.
"We would have to put the masks back on after we had all of our makeup on, and the makeup artists were having to touch us up more because we were taking off the mask and then putting the mask back on," she says. "It was a lot of contact with our skin — my mom taught me to stop touching my face early on, but we're definitely becoming more conscious of what our hands are doing and touching, and that if you touch your face, you're putting all of that bacteria on your skin."
Throughout it all, Stevens counts herself lucky to not have experienced maskne, but she credits being extra-diligent with her skin-care routine as the reason why. SkinCeuticals Silymarin CF serum was especially important in keeping her skin "stable" over the past year, she says.
Stevens wants to make it clear that a breakout isn't the end of the world — "Everyone gets them, it's reality!" — but having grown up with acne, she knows it can take an emotional toll. "When I did Faking It, I would get painful cystic acne and beg the director of photography to make a note that I had a pimple for them to be aware of in post[production]," she remembers. "I was just so embarrassed; there's so much pressure to be perfect when you're behind the camera." At the time, Stevens was just starting to learn about skin care, so she turned to Maegan Griffin, her friend and founder of skin-care company SkinPharm, for help to sort out a routine.
Below, Stevens breaks down the products she now relies on, including the exfoliating pads that don't dry out her skin, the hyaluronic acid she uses when her skin looks dull, and the face oil that goes a long way.
"I have tried so many different cleansers, and I have really reactive skin, so I have to be careful. So I always, without fail, go with a gentle cleanser in the morning — I use a different cleanser at night because the Cetaphil makes me feel so clean, but it's really light; I like that it doesn't have a lather because when you just woke up, you're not trying to get anything off your face other than … sleep. It's one of those products that I can always count on not to cause any sort of reaction or breakout. I think it was my dermatologist that recommended it to me in high school because I was starting to get the hormonal acne that you get as a teenager."
Photo: Courtesy of the Vendor
"SkinPharm has changed my life — I've never had as great skin since incorporating their products into my routine. Maegan Griffin, the founder, is a friend of mine, and she created all the products based on talks with her clients about issues that they were having.
These pads have salicylic acid, which my skin doesn't love, but I think the combination of it with glycolic acid and lactic acid for some reason doesn't dry me out. If I have a breakout, I don't freak out because I'm like, 'I'm going to use the pads, and I know that they're going to get rid of it.' They're essentially toner pads, but with some ingredients to regulate your acne, and I find that even after you've washed your face and you use them, you look at the pad and there's residue that was still on your face, and I'm like, 'Oh, thank God I got that.'"
Photo: Courtesy of the Vendor
"This is an antioxidant serum. It has vitamin C in it. I always read about these serums, and they say it protects your skin from free radicals, which, to be honest, I don't really know what that is. But I've noticed in using this serum that I don't get as many hormonal breakouts, and I'm not getting breakouts in places that I used to from just wearing makeup.
I've heard that vitamin C serums tend to smell like ham, and I'm very sensitive to smells, but I haven't noticed whether this smells like anything. I tend to go for things that are unscented because I get nervous that added scents might cause a breakout or cause my skin to react poorly. I also just don't want my face to smell like ham. Like, if my husband's gonna come kiss me, I don't want to be smelling like that."
Photo: Courtesy of the Vendor
"This is hyaluronic-acid serum, and I had never really used that in my day-to-day skin care until SkinPharm introduced hyaluronic acid to me a couple of years ago. Anytime my skin is feeling really dull or I'm feeling like I need something to boost and plump my skin, it's my go-to, especially after using the clarifying pads [above], which are lightly exfoliating. It's nice, too, because it makes me feel refreshed — I use it on my face and my neck because my mom taught me a long time ago that whatever you do to your face, you also do to your neck; you don't want to have that disconnect where your face looks one way and your neck is different.
It's named perfectly because I find that anytime I put it on, it gives me a youthful glow and that plumpness that you want your skin to have. It comes in a dropper bottle, and I can't really explain it, but the consistency of it is not completely liquid, and it's not completely gel either, but when it goes on to your hands and it goes onto your face, it's so smooth and so satisfying and it seeps in. And it's not sticky, either, which is sometimes a problem with similar products."
"I realized that when I go to use my gua sha, it doesn't glide on your face as well if you don't use a face oil. I spoke to a woman at Sephora because I was trying to choose an oil by myself — I don't ordinarily use face oils because I was one of the people that had the misconception that adding oil to your face was going to make you oilier. But this one is really lightweight. It's bright orange, though, and sometimes when you put it on, you're like, 'Oh no, it's orange,' but then it blends in and it's totally fine. I just use two to three drops, and if I need a little bit more for my neck, I'll add one more drop — a little goes a long way; you do not need tons of oil on your face to get the gua sha to glide."
"A couple of years ago, I had my first lymphatic-drainage massage, and it kind of changed my world realizing how many lymph nodes we have in different parts of the body and how important it is to flesh those out. In traditional Chinese medicine, gua sha is a method that helps with that. I actually learned about gua sha through a makeup artist — it's my favorite thing when I get to have my makeup done and somebody gives me a face massage, whether it be with one of those vibrating rollers or a gua sha. There's something just so therapeutic and soothing to start your morning.
I'm not a professional at it by any means, but I will start at the back of my neck and do downward motions because the downward motions are what flushes out the lymph nodes, and then when you do the upward motions, that's more to lift.
One of my biggest personal insecurities is that if I'm not paying attention, I get a double chin. It runs in my family — everyone in my family has a little side profile, little chin thing going on — but I learned that a lot of that is also water retention. You retain a lot of water there, so I tend to use my gua sha there, as well, and then I'll do my jawline, my cheekbones, and sometimes my under eyes. You do five to ten strokes in each place, and it gives you a lift.
I actually have two gua shas — one that I got at a massage place in L.A. called the Now. They do a massage that uses the gua sha, and theirs is kind of U-shaped, and it has a little indent right in the middle. Then I also have one that has two prongs."
"I always have to be careful with sun protection, especially because at night I use retinol — I don't use it all the time, just once or twice a week. But as someone who is fair-skinned and skin cancer runs in my family, I can't leave the house without using an SPF. I also only use mineral-based sunscreens now because a couple of years ago I went to Mexico, and they were talking about the ocean and the reefs there and how harmful sunscreen can be for the water.
I don't think that people understand the importance of protecting your skin when you're young so that you don't have fine lines and wrinkles later on and so you don't damage your skin and get sunspots. Both of my parents found melanomas on their body, and they're thankfully fine and caught it, but my dad has a scar on his nose now from having to get surgery to remove it. Doing the preventative things now is important so that you're not dealing with the repercussions later.
A lot of zinc-oxide sunscreens can leave a wash of white on your face and they go on really thick. EltaMD's is very smooth. It's very light, and it almost disappears immediately onto your skin. Sometimes I pair it with a moisturizer depending on how dry my skin is that day — SkinPharm has a Brightening Lotion that I will sometimes put on before sunscreen, but the EltaMD sunscreen has a moisturizing aspect to it so a lot of times, especially in the summer when it's hot out and you're producing more oils naturally because of the humidity, I use the sunscreen on its own. And don't forget to apply it on your neck, as well. Don't Forget About the Neck, that's gonna be the title of my memoir."