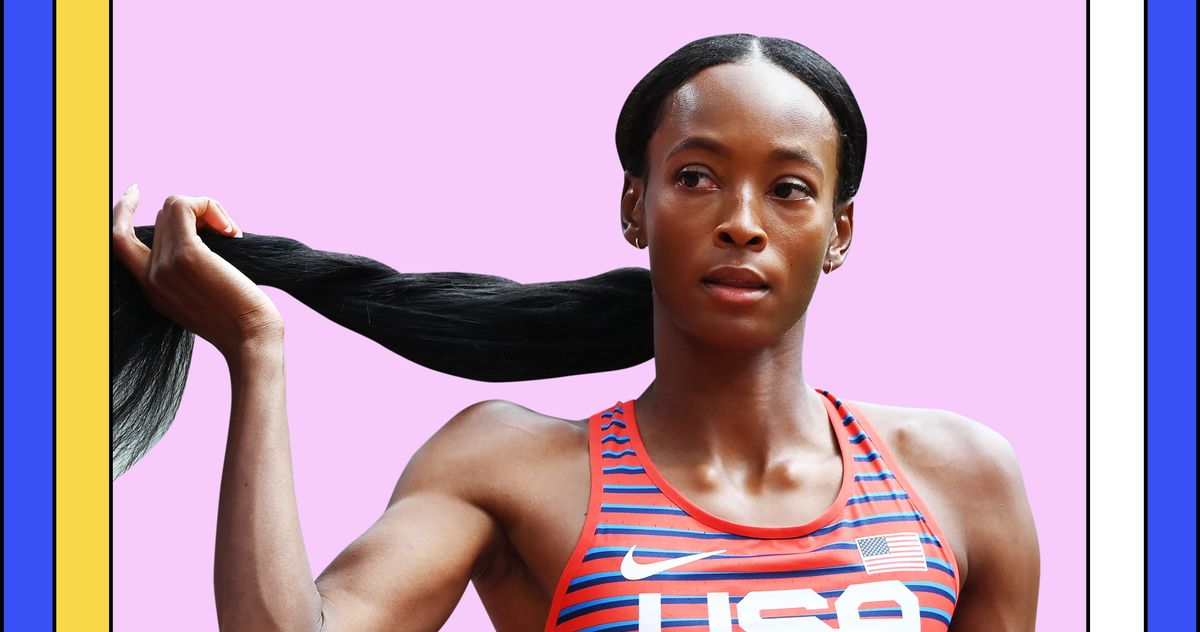 The Best Beauty Looks From the 2021 Tokyo Olympics
Dalilah Muhammad of Team USA. Photo-Illustration: by The Cut; Photo: Getty Images The only thing
Dalilah Muhammad of Team USA.
Photo-Illustration: by The Cut; Photo: Getty Images
The only thing more impressive than breaking world records, earning the title "Fastest Woman Alive," hurling a metal ball 65 feet, or catapulting oneself into the air to perform a multitude of flips, is doing any one of those things with an intricate hairstyle, extra-long nails, and matte lips that stay put through all the blood, sweat, and tears.
Olympians are the best of the best, and few express their personality through beauty looks better than the Black women competing. Catwalks and red carpets feel obsolete when you can watch elite athletes sprint, flip, and leap their way to the podium wearing fluffy lashes, neon buzz cuts, butt-skimming ponytails, and decorated talons that do Florence Griffith-Joyner proud. From Naomi Osaka's color-coordinated braids and Christina Clemons's butterfly clips, to Shelly-Ann Fraser-Pryce's neon ponytails, here is a peek at some of the most impressive beauty looks that were spotted on the court, around the track, and, momentarily, up in the air at the Tokyo Olympics.
Photo: Xinhua News Agency via Getty Images
Long jumper Jazmin Sawyers of Great Britain competed with a winning combination of cornrows, bleach-blonde afro-puffs, and brushed-up brows.
Jamaica's Janieve Russell sprinted with both bright yellow and bright green hair in homage to her home country's flag.
Photo: Ryan Pierse/Getty Images
Christine Mboma of Team Namibia paired her beaded braids with a very good Skittles mani.
Dalilah Muhammad of Team USA hit the hurdles with a beautiful, butt-skimming ponytail.
Photo: Maja Hitij/Getty Images
If you've been looking for the perfect shade of purple, look no further than Tatjana Pinto's braids.
But Shafiqua Maloney and Shaunae Miller-Uibo may convince you to go bright, aqua blue instead.
Photo: Wally Skalij/Los Angeles Times via Getty Imag
Miller-Uibo also ran with extremely red hair if warm tones are more your speed.
Christina Clemons brought back butterfly clips in the best way imaginable.
Photo: Christian Petersen/Getty Images
Stephanie Mawuli of Team Japan competed in 3×3 Basketball with rainbow and gray braids that photographed excellently from every angle, including this one.
Photo: Xinhua News Agency via Getty Images
Gabrielle Thomas proved you don't need a superhero cape when you have red, waist-length hair whipping behind you in the wind.
Natoya Goule's braids and black French manicure were a lovely tribute to the Jamaican flag.
Photo: INA FASSBENDER/AFP via Getty Images
Puerto Rico's Jasmine Camacho-Quinn posed on the podium with a gold medal, dramatic lashes, and Puerto Rico's national flower pinned to her afro.
Rebeca Andrade of Team Brazil decorated her hair with patterned scarves that never faltered during her floor routine tumbles, nor her gold-winning flips.
Sprinter Athing Mu taught us all a refresher course in accessorizing your hair.
Photo: Xinhua News Agency via Getty Images
Raven Saunders of Team USA shot put her way to a silver medal with bright half-and-half hair and bleached brows.
Photo: Matthias Hangst/Getty Images
Braided space buns, a classic red lip, and a perfect cat eye. Go ahead and pin Gabriele Cunningham's look to your Beauty Looks board on Pinterest.
Photo: ANDREJ ISAKOVIC/AFP via Getty Images
You're going to want to pin Rosangela Santos's look too: Matte lips, a top knot with a bandana, and long almond nails are just what your athleisure looks need.
Photo: Laurence Griffiths/Getty Images
Simone Biles earned her bronze in balance beam with a french mani underlined with rainbow nail art, and a perfectly blended, bronze smokey eye.
Photo: Xinhua News Agency via Getty Images
One of two neon, two-toned looks sprinter Shelly-Ann Fraser-Pryce sported during her competitions.
Photo: JAVIER SORIANO/AFP via Getty Images
Jamaica's Leah Nugent went with a monochrome look and matched her lips to her green locs.
Photo: Xinhua News Agency via Getty Images
Tobi Amusan of Nigeria paired her burgundy afro puffs with a hot pink headband and moody matte lips to balance it out.
Photo: Amin Mohammad Jamali/Getty Images
Sprinter Anna Cockrell's hair was a lesson in '90s excellence thanks to cornrows, hair jewelry, and a scrunchie to top it all off.
Photo: TIZIANA FABI/AFP via Getty Images
Naomi Osaka's fiery red braids still live in our brains rent free, as do her stacked scrunchies, and red-and-white French mani.
Photo: ANDREJ ISAKOVIC/AFP via Getty Images
USA's Athing Mu and Raevyn Rogers celebrate their joint wins with an embrace and equally excellent nails.
Photo: ANDREJ ISAKOVIC/AFP via Getty Images
Javianne Oliver made an excellent case for metallic liner and getting each of your nails their own personalized nail art.
Photo: ANDREJ ISAKOVIC/AFP via Getty Images
Jamaica's Elaine Thompson-Herah, a.k.a. the fastest woman alive, earned the title with a blonde ponytail crowned with a jeweled headband.