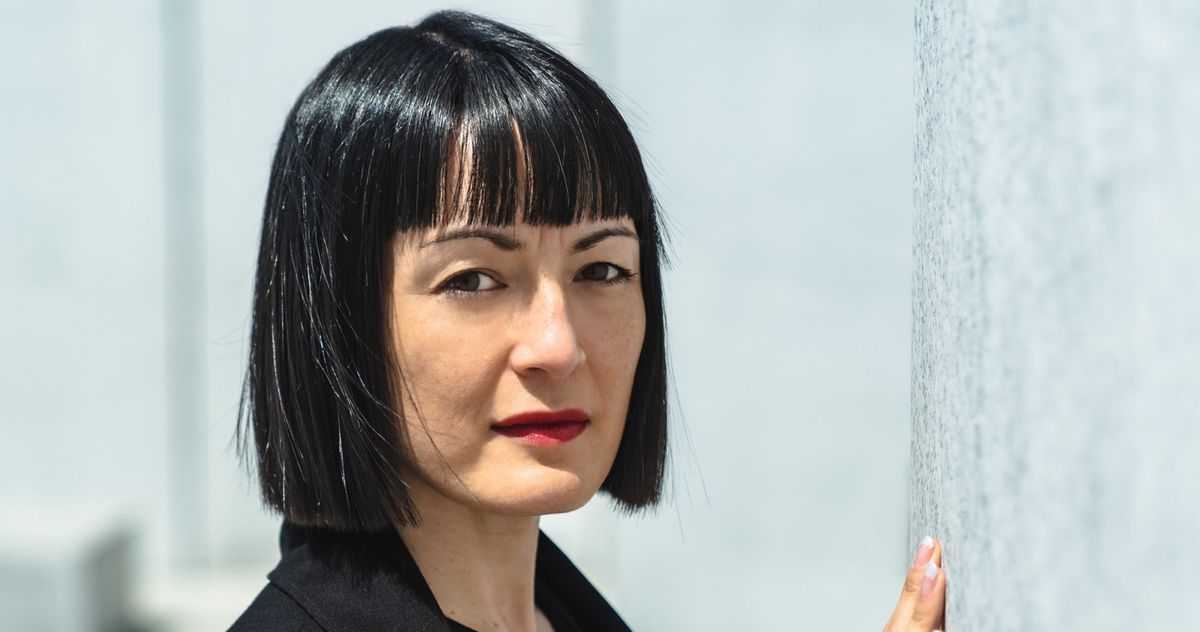 Tastemakers: Bliss Lau Jewelry
Photo: Courtesy of Bliss Lau Bliss Lau's geometric jewelry is almost minimalist, but not quite;
Photo: Courtesy of Bliss Lau
Bliss Lau's geometric jewelry is almost minimalist, but not quite; she calls it "minimal-adjacent." The designer's eponymous label focuses on fine jewelry with a modern, clever feel, like a two-piece diamond ring made of interlocking shapes, or a pendent that uses a gemstone inside a gold triangle to explore negative space.
Lau got her start as handbag designer, which evolved into designing body chains in 2007. (Beyoncé wore one in her "Drunk in Love" music video.) When her partner proposed to her with a sketchbook and asked her to design her own ring, she fell in love with the process.
Shopping at Bliss Lau is highly personal, particularly her "ReNew Your Jewelry" program. "Encapsulated in a piece of jewelry is the story of family, memories, and identity, and that's where the idea of ReNew was born," she told the Cut. "We make new jewelry out of the pieces sleeping in your closet. Our clients send us their jewelry, materials, or stones that hold some significance to them. They could be heirlooms or a gemstone bought traveling, and we work together to transform them into a new design."
The Cut spoke with Lau about jade, candles that look like Swiss cheese, and creative independence.
What's one piece of jewelry from your brand that's especially meaningful to you?
The black jade Ethos Bracelet because it's in line with my Chinese heritage. I feel really in tune with this connection between past and future. Jade is a protective stone known as a symbol of love and community.
How do you thank someone for a gift?
I send a letter with a photo inside, usually of my daughter. I think we are missing that tactical element of imagery in our daily lives because everything is so digital.
What would you never wear?
Anything maximalist. Or pink.
What's your dream vacation?
A trip with all of my favorite people — hiking, swimming, laughing all night, and waking up for the sunrise. It doesn't matter where, as long as it is warm.
What's a good book on your coffee table right now?
Bright Earth: Art and the Invention of Color by Philip Ball. It explores how color has crafted history in a way that is magnificent, frustrating, and fascinating. It touches on some of the xenophobic prejudices in color throughout history.
Last show you binge-watched?
I have been all about documentaries about artists like Hilma af Klint, Dries Van Noten, and M.C. Escher.
What's your guilty pleasure?
Redesigning my apartment. I love rethinking the lighting and design objects, and making my space feel completely new.
Secret to hosting a good party?
I just bought this candle that looks like Swiss cheese, and I love the idea of camouflaging it in the cheese platter. Goofy little surprises like that.
What is a trend that you like right now?
My favorite trend right now is the idea that anything goes and everything is acceptable. It feels like right now, we can live in a world with no judgment on what we wear, and I love that total creative independence.
One you don't understand?
None. Any creative way people express themselves I find interesting.
Favorite restaurant in New York?
Luthun. A different menu every day, creative artful food that is totally surprising and delicious.
What's the one thing you could eat everyday for the rest of your life?Musubi (white rice with a meat or fish or veggie wrapped in nori) is my comfort food.
Shoes you wear most often?
Gray Matters. Creatively designed, comfortable, and beautifully made. The perfect trio.
What are four inanimate objects that bring you joy?
"Norma Kamali is a go-to. The Marissa bathing suit fits like magic, and I live in her jumpsuits."
"I go through liquid phases. Fermenting is my current DIY liquid obsession. This book guides you through easy alcohol-free recipes, with a bonus of great gut health."
"Sometimes clothing can be mantra. These BLBNKS hoodies keep me aligned with self. The message is beautiful."
"Give me a tiny bag with perfectly engineered pockets for my essentials, and I am in. Micoli Studio's sustainable leather bags basically solved all of my handbag needs in one."