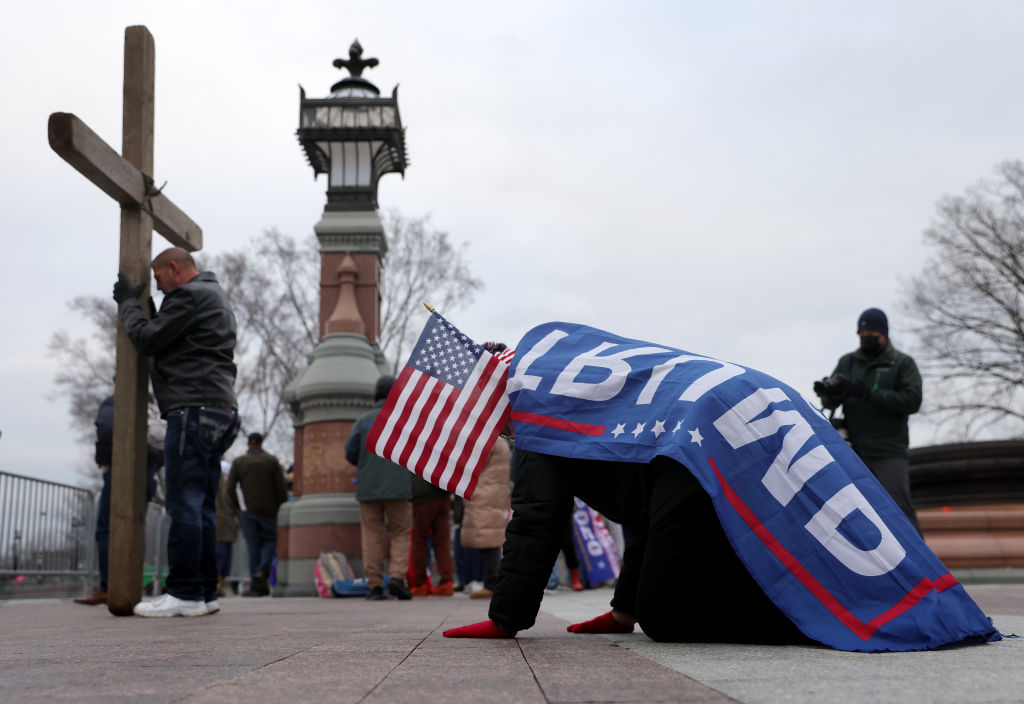 Prominent Evangelical Leader Calls Out 'Absolute Wedding of Politics and Faith' in U.S.
A prominent evangelical Christian leader in the United Kingdom has called out the "absolute wedding
A prominent evangelical Christian leader in the United Kingdom has called out the "absolute wedding of politics and faith" in the U.S., pointing to the tensions this caused under the leadership of former President Donald Trump.
White evangelical Christians were a key base of support for Trump in 2016, with the religious demographics's backing of the president remaining steady throughout his tenure in the White House. Exit polls in 2016 showed that about 8 in 10 white evangelical Christians supported the former president's first election. That trend repeated in 2020, with exit polls showing between 76 percent and 81 percent supporting Trump. Some prominent evangelical Christian leaders in the U.S. also promoted the former president's unfounded claims of widespread voter fraud and voiced support for Republicans objecting to President Joe Biden's win.
Gavin Calver, CEO of the Evangelical Alliance in the U.K., discussed the tensions this caused for Christians like him across the Atlantic in an interview published by Christianity Today on Tuesday.
"The problem was this word evangelical was connected to something that we had very little influence over and no control upon. In the media, they would talk about evangelical Christians doing X, Y, and Z as in the U.S. That by association made it look like we were the same people with the same ideology and the same everything," Calver said.
"What Trump stood for by association the media caricatured us as standing for and, with the greatest respect, that often was not the case," he explained.
Calver pointed out that there is a close link between religion and politics in the U.S. that does not exist in the same way in the U.K.
"Politics are important, but they're not at any point some kind of demigods in our society here in the United Kingdom. The absolute wedding of politics and faith was not helpful when trying to have rational conversations," he cautioned.
In additional comments emailed to Newsweek, Calver emphasized that the relationship between politics and religion in the U.S. has been "hugely problematic."
"Politics and faith will always be connected on some level. However, the marrying of the two so closely in recent times in the USA has been hugely problematic for us all. Poor political decisions being rigorously defended by many Christian leaders, who I have great respect for, has been painful to watch," Calver said.
"Christians need to pray for, and support leaders, but they also need to make a stand against that which is wrong. I will always be passionate about the need for evangelical Christians to be fully engaged with public life. However, in the end the church's primary loyalty must be to Jesus and not blindly given to any national figure or leader," he said.
Many evangelical Christians in the U.S. supported Trump largely due to their staunch opposition to abortion, as well as their support for installing conservative judges throughout the federal court system and their anti-LGBTQ views. The former president allied himself with evangelical leaders during his 2016 campaign, promising to push through many of their priorities.
Prominent Democrats have also employed religion to condemn Trump. During his presidential campaign, Pete Buttigieg, who is now Biden's nominee to be secretary of transportation, took aim at Trump's "porn star presidency."
"My understanding of scripture is that it is about protecting the stranger and the prisoner and the poor person and that idea of welcome," Buttigieg said during a CNN town hall in March 2019. "That's what I get in the Gospel when I'm in church." He criticized then Vice President Mike Pence, a conservative evangelical, for aligning himself with Trump.
"How could he allow himself to become the cheerleader of the porn star presidency?" Buttigieg said. "Is it that he stopped believing in scripture when he started believing in Donald Trump? I don't know, I don't know."
This story was updated with additional comments from Gavin Calver.