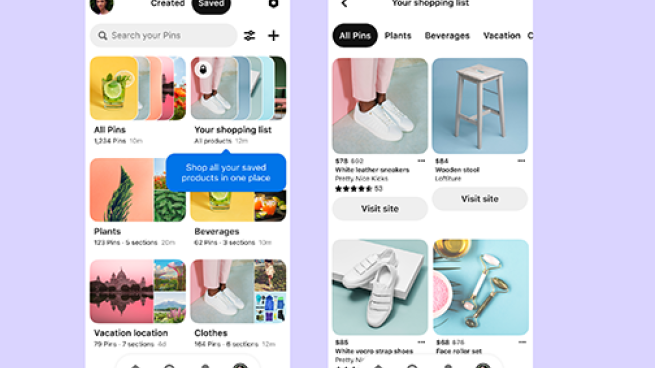 Pinterest grows shopping features | Store Brands
In the U.S., U.K. and Canada, however, Pinterest also announced a two-week shopping event called
In the U.S., U.K. and Canada, however, Pinterest also announced a two-week shopping event called "The Goods by Pinterest," where limited-edition products exclusively sold through Pinterest will be hosted on the discovery platform. Emerging brands to be featured include Outdoor Voices, Olive & June, Lucy and Yak, Charlotte Tidbury, and Park and Fifth.
Pinterest, based in San Francisco, said especially in the fashion and beauty categories, new research from Dynata for Pinterest shows people who visit Pinterest weekly outspend non-Pinterest users by two times every month and have an 85% larger basket size. 
What's more, when advertisers like a retailer own brand, for example, adds direct-shopping ads to the mix, they drive three times the conversion and sales lift and twice the incremental return on ad spend, according to Pinterest.
"People have always come to Pinterest to shop — they use Pinterest to discover new ideas and actively consider what to do or buy to bring those ideas to life," said Dan Lurie, global head of shopping products at Pinterest. "We want to help users to find products just right for them and feel confident that they've made a solid choice from reputable merchants with a seamless shopping experience. We're excited that Pinterest users in more countries will now be able to go from inspiration to purchase anywhere on Pinterest, bringing us one step closer to our goal of making every Pin easy to shop."