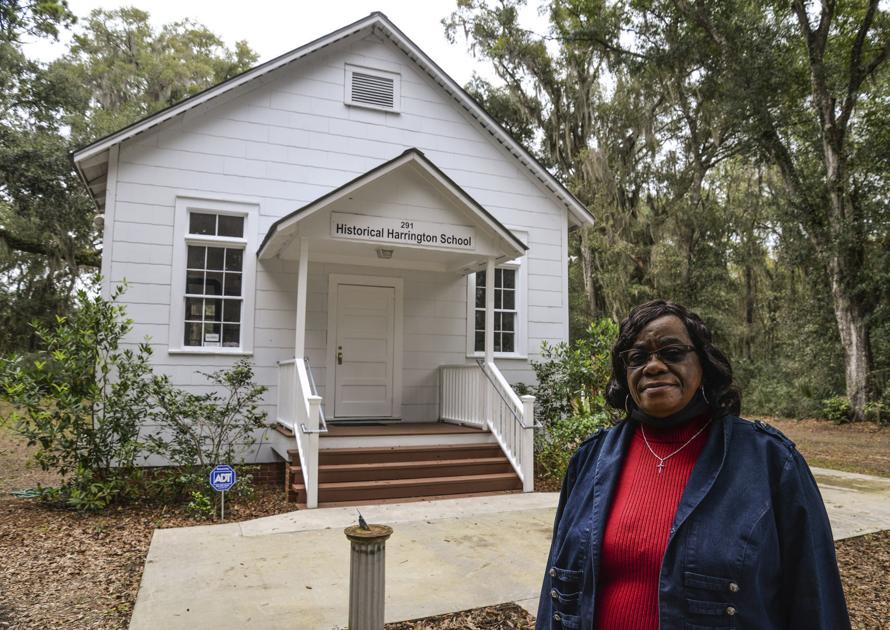 No "eyesores" tarnish the beauty of woman's S. Harrington Road memories | Local News
It is a museum these days, but the old school house on South Harrington Road
It is a museum these days, but the old school house on South Harrington Road was once an essential fixture within a vibrant community imbued with rich veins of ebony and amber.
Nancy Banks remembers when. We met there, Nancy and I, on a chilly February day in which brisk winds blew away the warmth from the bright shining sun overhead. But Nancy's sublime smile and glistening eyes indicated a warm glow from within, conjured from happy childhood memories of the South Harrington Road community of old. This place, this little slice of St. Simons Island, once provided all a Black child needed to feel secure, content and loved.
There were parents, grandparents, siblings, aunts and uncles. And cousins galore. All the neighbors were like family anyway.
Her small world stretched from Mr. Cusie's bait and tackle shack staked above the tidal creek at the end of the South Harrington all the way to First African Baptist Church just a piece down Frederica Road. There were crabs and crab cakes — cupcakes too. A friendly church lady on South Harrington Road handed out candy from God to young believers every Sunday.
The children reveled in sandlot ball games. They gathered beneath hickory trees, or ventured forth into nature itself. Self-sufficient grownups planted vegetable plots, caught fish, hung nets for mending or weaved baskets in the time-honored Gullah Geechee fashion.
The dirt road that comprised the mile-long stretch of South Harrington Road would devolve into an impassable quagmire after heavy rains. But some grownups would eventually haul in new truckloads of brown dirt to stabilize the single-lane byway.
"I think I still make some kind of connection with this island," said the 73-year-old wife, mother, grandmother and great grandmother, who has long since relocated to the mainland.
Our encounter might have never occurred if not for a letter to the editor that appeared in an early February edition of The News. That letter used the word "eyesore" and South Harrington Road in the same passage. The letter writer referred to a tumbledown heap of concrete blocks left over from the demolition of a building behind Bennie's Red Barn. In fairness to that letter writer, many a passerby might easily view that big pile of bricks as an "eyesore."
Still, the term "eyesore" in reference to her childhood wonderland did not sit well with Nancy. So she set out to write her own letter. Nancy is a fine writer. Her poem, Ode to St. Simons: A Voice For the Island, was published in the Coastal Georgia Historical Society's spring quarter newsletter in 1998.
But Nancy's sweet childhood reminiscences and speculations regarding the true definition of an eyesore ran to 1,400 words. That is about 1,150 words over this newspaper's strict limit for a letter to the editor. But Publisher Buff Levy, himself a native islander, was moved by Nancy's powerful words. And that is how her letter ended up in my email inbox.
So there we were, meeting outside the Historic Harrington School Cultural Center at 291 S. Harrington Road. As an icebreaker I ask if she knows my friend Amy Roberts — islander, author and executive director of the St. Simons Island African American Coalition.
"Amy and I went to school together here," Nancy said, nodding to the schoolhouse. We look at the small one-room wood-frame building, now the centerpiece of a park that includes wending exercise paths and tranquil ponds.
"The building was a lot larger then," she offered with a twinkle in her eye. I look up, the newspaperman in me seeking out what tangible piece might now be missing.
She sees that I did not get it. So strong are the ties, that Nancy had drifted back in time.
"You know?" she coaxed me. "As a child's version of this school? It was smaller then."
Nancy points to the paved two-lane road, which is flanked by an exercise trail along one side these day. "If two cars were coming toward each other, they would each have to give up half the road," she said of old South Harrington.
Nancy was born in 1947. She first lived in a home on Frederica Road, a good stone's throw north of Bennie's Red Barn. Big Mama, Nancy's grandma, lived up the road on South Harrington. After Big Mama's passing, the family moved into her home.
Down at the end of the road, Mr. Cusie lived in a shack above the water. There he sold bait, fishing tackle and rented boats. He was an affable man who let Nancy and her friends catch crabs off of his dock and raised walkway. The children likely did not know that Cusie's knowledge and skill as a fishing guide made him a legend among visiting White anglers seeking trout and redfish.
"He was a really nice man," she said of Cusie.
Using an infallible family recipe, the children made crab cakes with the crabs they caught. "We made them with my mom's recipe," Nancy said. "That was our enterprise. We sold them for 15 cents apiece. That's how we got our spending money."
During recess at the Harrington School, the children often spent some of that money on fresh baked cupcakes from Miss Bea, who lived near the school house. Nancy learned the elemental cornerstones of reading and writing inside that one-room schoolhouse.
Nancy attended First African Baptist Church up the road on Frederica. Walking home from church there, the children were met by Mama Nelda of "the 'Sanctified' church on South Harrington Road," she recalled. Sunday school there included bags of penny candy. "What child wouldn't attend Sunday school every Sunday?" Nancy mused in her letter.
Nancy later attended segregated Risley Elementary School in Brunswick. She went on to Risley Middle and Risley High schools. "We were the first stop for the school bus," she said, meaning they were the farthest out. She even attended the junior college now known as the College of Coastal Georgia "for a minute back in the '70s."
Nancy lived in Big Mama's house on South Harrington until she was 18. That is when she met Ceasar Banks, an up-and-coming carpenter from Sapelo Island who was then living on St. Simons Island's South End. They married. Ceasar went on to become a successful construction contractor, and they raised two sons.
Big Mama's house is gone, like most of the simple homesteads from her childhood. A scattering of the old homes remain, one-story raised wood structures with room outside for a vegetable patch and maybe a place to run a clothesline. My favorite is the blue painted home near the Harrington School; I see it often on bicycle rides. Old fellows gather on a picnic table out front, sometimes burning vegetation in a barrel, ever oblivious to the modern two-story homes, subdivisions and gated communities that surround them.
Who is to say what constitutes an "eyesore?" Nancy wants to know.
"A beholder might describe 'eyesore' as tall, hastily constructed investment buildings," Nancy writes, "so closely constructed that the sunlight's beauty never touch their outer walls, nor can the sweet corn breezes flow through their open windows."
I encourage you all to read Nancy's full letter, which will be posted online with this story.