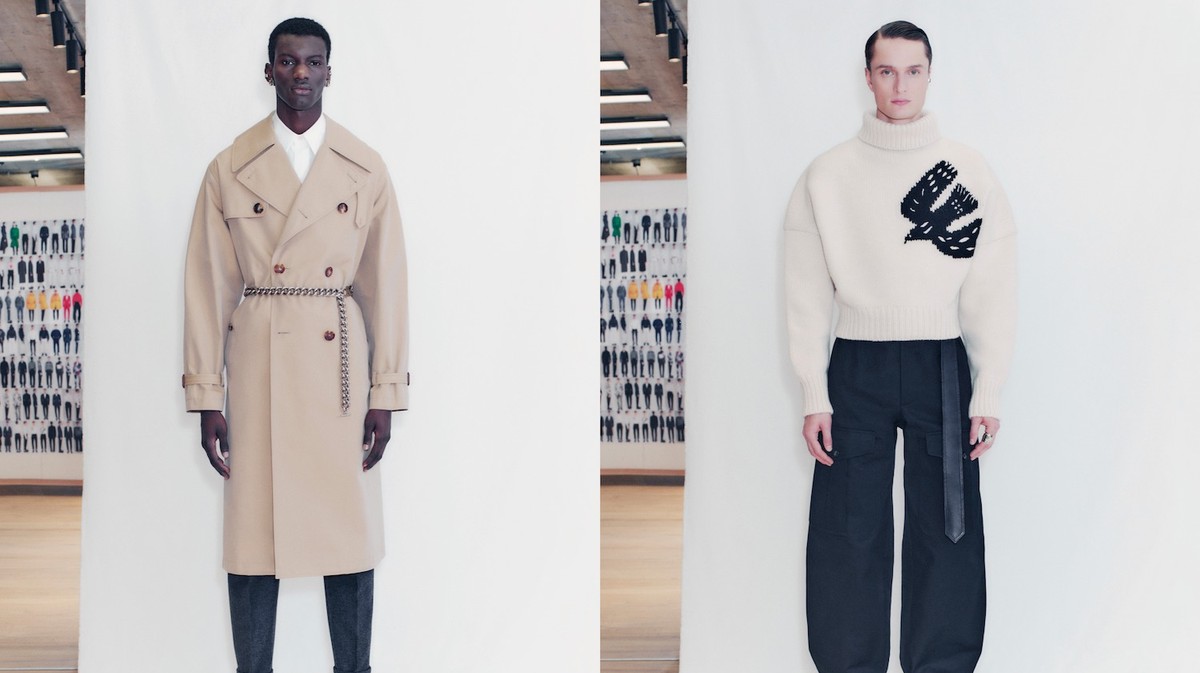 New Alexander McQueen menswear and kinky Valentino: What's in fashion?
Hello again darlings! My, how this week just flew by! When keeping track of what
Hello again darlings! My, how this week just flew by! When keeping track of what day it is feels hard enough, we don't blame you if you've let this week's most stylish bits-to-know pass you by. Well, here we are, your humble fashion news purveyors, bringing you the chicest dispatches over the past seven days. Today's bulletin is jam-packed with new campaigns from Chloé and Burberry, fashion exhibition updates, a stylish new shoe from JW Anderson, and SO much more! What exactly, you ask? Read on, sis! Here's what's in fashion. 
Image courtesy of Valentino
Rock-hard Rockstud — Valentino gets kinky! 
Given that Valentino's signature colour is lusty, daring red — it makes sense that the Italian fashion house is embracing the kinkier side of seduction for its new collaboration. With the help of Betony Vernon, author of 2013 kink guide The Boudoir Bible, Valentino's legendary 'Rockstud' line of bags and shoes has gotten a deliciously sexy makeover. More importantly, it will be sold by a selection of independent erotic bookshops in Paris, Madrid, Milan, London, LA, New York and Seoul. "These locations represent more than just a shop, much rather art galleries, creativity and cultural spaces," read a statement from the brand. Literature, fashion and sex? Get you a stud who can do all three. OA
CFGNY. Image via Auto Italia
The fashion show is back — and everyone is invited!
The pubs are uncomfortably packed, you can't go for dinner on a Friday without booking two months in advance… girls, nature is healing! One of the things we've been craving the most over these long months of lockdown, though, is a good old fashion show… no, not that kind — we mean exhibitions! Lucky for us, then, that London is currently bursting with a series of stylish gallery affairs. At the Design Museum in Kensington, we have one for the hypebeasts — Sneakers Unboxed: Studio to Street, a blockbuster show offering insight into the design stories behind some of the most iconic creps there ever were. A stone's throw away, the trusty V&A has revived its hit show, Bags: Inside Out, which focuses on…. shoes. Nah, jk lol, it's all about bags. And then over at Bethnal Green's Auto Italia, fashion-as-art collective CFGNY have hopped over from their New York base to install Collecting Dissonance, an installation-led exhibition that engages with themes of power, cuteness and 'Asian-ness'. There's also a free-to-attend online talk with the artists hosted by MOI! Sign up here to attend, or never come back here again xo MS
Image courtesy of Chloé
Chloé goes au naturel for its AW21 campaign
Green leaves, blue skies, fresh air… They say the best things in life are free. Chloé, on the other hand, not so much… Yet the natural world and all its beauty is the star of the quintessentially Parisian house's new campaign.  The first under the helm of Gabriela Hearst, who became Chloé's creative director earlier this year, there are barely any of the artfully upcycled patchworks and 70s-inspired clothes that she made her debut with in March. Instead, photographer Zoe Ghertner captured "beguilingly abstract" shots of pleated fungi, pooling lava, honeycombs and ladybirds for the house. Oh, and Paloma Elsesser! It's like a breath of fresh air. Literally. OA
JW Anderson steps into the sneaker game
If you're a London-based sneakerhead, then the exhibition over at the Design Museum is, of course, a must. There is, however, another destination well worth trekking across the city for, home to a contemporary footwear grail in the making. That place, of course, is the JW Anderson flagship in Soho, the only store in the city where you'll find the label's first-ever sneaker! "But wait, hasn't J-dubz done trainers before?" No, silly! Those were collaborations — this is indeed Mr. Anderson's first! ever! Sneaker! First making an appearance in the brand's AW and pre-Fall 21 menswear collections, the colour-blocked high-tops boast warped proportions and deconstructed motifs. "I was thinking about a primitive form of craft where leather meets canvas," Jonathan says. "I like how the rough stitching implies the hand of the maker. I think that balances out the more technical side of trainer design. I like that these feel rough and rawer." And so do we. These are shoes we'd happily pay to walk a mile in. MS
Photography Inez & Vinoodh. Image courtesy of Burberry
Shygirl, FKA Twigs and Kendall Jenner secure the bag for Burberry
There are fashion campaigns, and then there are fashion campaigns, darling! Between these two camps, Burberry's latest image series for its signature Olympia bag falls squarely in the latter. Why? The TALENTS! Styled by Ib Kamara and shot by Inez & Vinoodh, it sees three of the most mega megababes of our times shot against a minimal white marble background: Kendall Jenner, FKA Twigs and Shygirl!! Clutching the svelte leather hobo silhouette with angelic grace, they basically had us throwing our wallets at our laptop screens in the hopes of securing the bag. Got better things to spend your cash on? LIES! MS
D is for Dior, P is for podcast…
Stuck for a good podcast? Don't worry, babe, we've got you. Or rather, the venerable Maison Dior do! As one of the most storied houses in the entire fashionsphere, there is, of course, a hell of a lot to know about it. Thankfully, though, Dior has neatly packaged the tale of how it came to be in a new podcast series, A.B.C.Dior. Mapping out "the House's fantasy universe and inspirations, from 1947 to today," reads a release. Each of the 26 lettered episodes will dive into a niche of the Dior story, offering "a few impassioned minutes to escape and discover the secret behind the scenes in the 'kingdom of dreams'." For the first two letters, we have the letters M and L. The former stands for muguet, French for lily of the valley — Monsieur Dior's favourite flower and lucky charm — the latter for leopard print, in homage to Mizza Bricard, the couturier's perennial muse. Could it sound any more chic?! MS
Alexander McQueen's got you suited and booted for AW21
Alexander McQueen, the purveyor of arguably the world's sharpest tailoring, has a treat in store for the boys (and the girlies). The British house has just released its AW21 menswear collection, a tight capsule of incredibly slick clothes to take you from the inevitable return to the office to extra-long weekend lunches. Creative director Sarah Burton didn't say much about it — her only words being that the collection has "a continued focus on silhouette". So, the legs of McQueen's trousers are slightly wider this time around, a bit more generously cut, and abbreviated just above the ankle — ideal for pairing with the McQueen's signature stomping boot — and there are even perfect wide-leg jeans and utilitarian pantaloons, a bold silhouette that deserves a comeback. Of course, there are McQueen's signature exquisitely tailored printed suits too — this time, they are the result of paper cut-outs, the kind you make by folding paper and snipping away motifs. Except ours never turned out quite so beautiful. Thank god for McQueen! OA
Harley Weir shoots Istanbul's buzziest bag brand 
Over in Istanbul, sisters Merve and Beste Manastir have been building a small empire with their leather goods brand, Manu Atelier. Centering production in their home city, using locally sourced materials and employing Turkish craftspeople in their very own factory, the sisters are on a mission to support and hire women who have lost their jobs during the pandemic. So, they created an upcycled line of clothes (they used offcuts from previous collections) with the help of young designer Lou de Betoly — a first for the brand, and working with local artisans to bring it to life. Even better, they enlisted Harley Weir to photograph it all — the crescent-shaped bags and crochet knits taking centre stage. Turkish delight, am I right? OA
Young, Gifted and Black? Vans wants to give you $$$$$!
Another week, another social victory for Vans. Last month, we covered the way the footwear brand partnered with non-profit organisation EduCare Foundation to donate Chromebooks to students in one of Downtown LA's most impoverished schools. This week, the brand long associated with youth and subculture has partnered with the NAACP to launch the Creative Sole scholarship for Black students in the US, with monetary support to put towards their higher education. Applications are open until June 18, and 50 students will each be awarded $5,000 to use towards their tuition fees — and an annual sum of the same amount every year for their college education. You can find all the entry requirements and apply here. Go get your education, honeys!