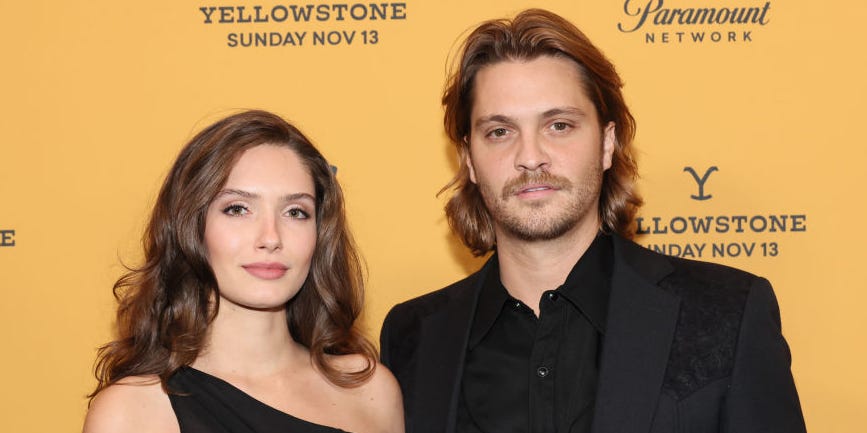 Luke Grimes's Wife Bianca Rodrigues Shared a Rare Selfie for Their Wedding Anniversary
Congratulations are in order for Luke Grimes and his wife, Bianca Rodrigues. The Yellowstone star
Congratulations are in order for Luke Grimes and his wife, Bianca Rodrigues. The Yellowstone star (aka Kayce Dutton) and Brazilian model celebrated three years of marriage, and Bianca shared a sweet message on Instagram to commemorate the milestone.
Bianca posted a photo with the caption, "3 years married to my favorite person in the world ❤️ Te amo ❤️" Fans chimed in with messages like, "Omggggg 3 years 🙌 life is beautiful," "Congratulations! You guys make an extremely gorgeous couple 😊," and, "You are, without a doubt, the world's sweetest couple. Perfect match. Bless you both." Hassie Harrison, who stars as Laramie on Yellowstone, chimed in with, "Congrats, lovebirds!! 😘🥰♥️"
Luke and Bianca lived in Los Angeles for years before permanently relocating to Montana where Yellowstone films. They tend to keep their private life under wraps, but Bianca occasionally shares photos of the couple. Luke just joined Instagram earlier this year and keeps the focus on projects he has in the works.
The couple has lots to celebrate these days. Season 5 of Yellowstone is underway and breaking records, and Luke, who will be performing at Stagecoach in 2023, just released "No Horse to Ride," his first song from his upcoming country album. The song will be featured on Yellowstone's mid-season finale on January 1.
We'll be looking forward to what's next for Luke and Bianca in 2023!
This content is imported from OpenWeb. You may be able to find the same content in another format, or you may be able to find more information, at their web site.