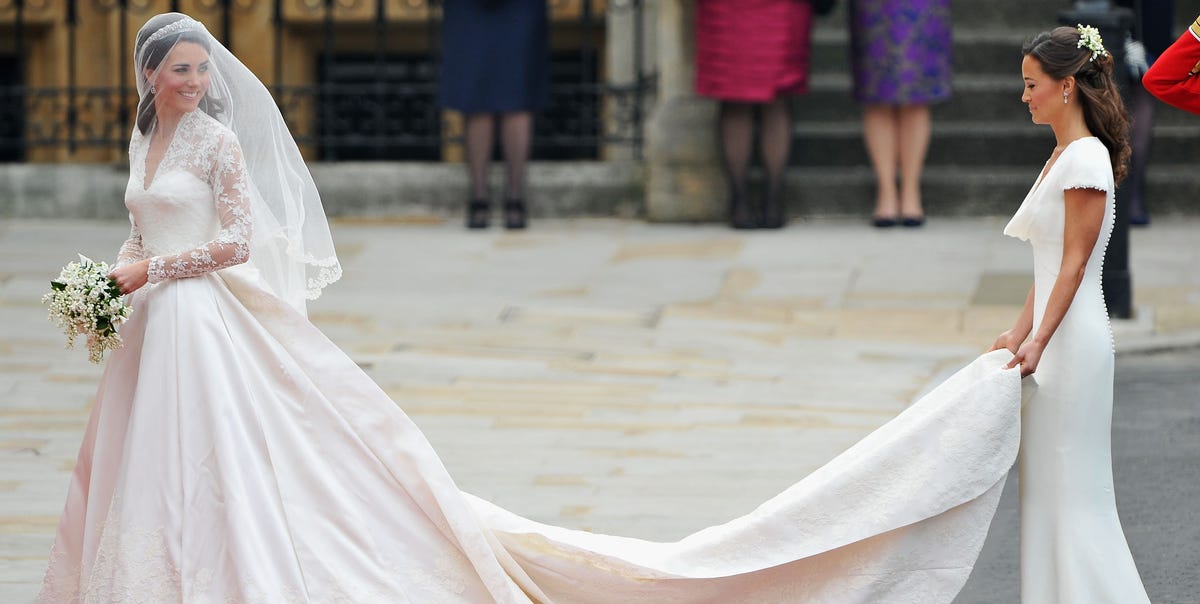 Kate Middleton Royal Wedding Inspiration
Pascal Le SegretainGetty Images Looking back at Kate and William's wedding 10 years ago, it
Pascal Le SegretainGetty Images
Looking back at Kate and William's wedding 10 years ago, it is impressive to see how many elements still hold up today. Call it the Kate effect or simply the results of hosting a royal wedding at two of London's most iconic landmarks (that said, we have to admit that Diana's 80s-style gown did not age as well). But even for the rest of us mere mortals who don't have Westminster Abbey or Buckingham Palace reserved for our nuptials, Kate's practical approach to her wedding is surprisingly approachable. She did her own makeup, splurging on a lesson or two from an expert, took inspiration from her parents wedding, and incorporated family heirlooms into her look. We've highlighted these and other royal wedding details that just might inspire your own regal affair.
Advertisement – Continue Reading Below
Try a Self-Made Face
Bobbi Brown
sephora.com
$29.00
A media frenzy ensued when it was revealed that Kate did her own wedding makeup. She prepped with lessons from makeup artist Arabella Preston, but on the big day she kept things simple and informal, sealing her look with a swipe of Bobbi Brown lipstick in Sandwash Pink.
Borrow a Vintage Ride
Kate and her father Michael borrowed the queen's 1978 Rolls-Royce Phantom VI for the drive to Westminster Abbey. After the lunch reception, Prince William took the keys to his dad's vintage Aston Martin convertible, which was outfitted with a custom license plate for the day.
Go for an Over-the-Top Dress Code
Rethink Flower Crowns
Another royal-approved idea that works well in real life: flower crowns. The ones Kate's bridal party wore were an homage to the flower crown her mother Carole wore at her own wedding.
Choose an All-White Bouquet
Florist Shane Connolly designed a small cascading bouquet of monochromatic flowers for the bride. While an April wedding meant that lily of the valley, sweet William, ivy, myrtle, and hyacinth were in season, an all-white assemblage of local blooms is a classic for any time of year.
Use Family Heirlooms
Sapphires were a royal treasure long before Prince Charles proposed to Diana with that iconic 12-carat ring from the House of Garrard (now worn by Kate). He was inspired by a sapphire brooch Queen Victoria received from Prince Albert in 1840, which has since been passed down to Queen Elizabeth. Follow suit and peruse the family jewels for inspiration—or rework an old piece into something modern. Jewelers like Jade Trau, have elevated heirlooms into modern masterpieces for the next generation.

More: The Best Sapphire Engagement Rings
Give Back to Others
In lieu of gifts, Kate and William asked for donations to favorite charities. Follow their lead and provide guests a list of organizations. Also, consider a second life for the decor. The English field maples that lined the aisles at Westminster Abbey were replanted at Prince Charles's home in Wales.
You can donate your wedding flowers to go to hospitals, retirement centers, or other places in need through Petals for Hope and Random Acts of Flowers, or search for local organizations in your area.
Opt for a Wedding Lunch
Morning ceremonies followed by midday receptions have long been a royal tradition; after the Cambridges' wedding, the queen hosted lunch for 650 guests at Buckingham Palace. Now, with Covid-19 restrictions, more couples are wisely following suit (with much smaller guest lists, of course).
This content is created and maintained by a third party, and imported onto this page to help users provide their email addresses. You may be able to find more information about this and similar content at piano.io
Advertisement – Continue Reading Below