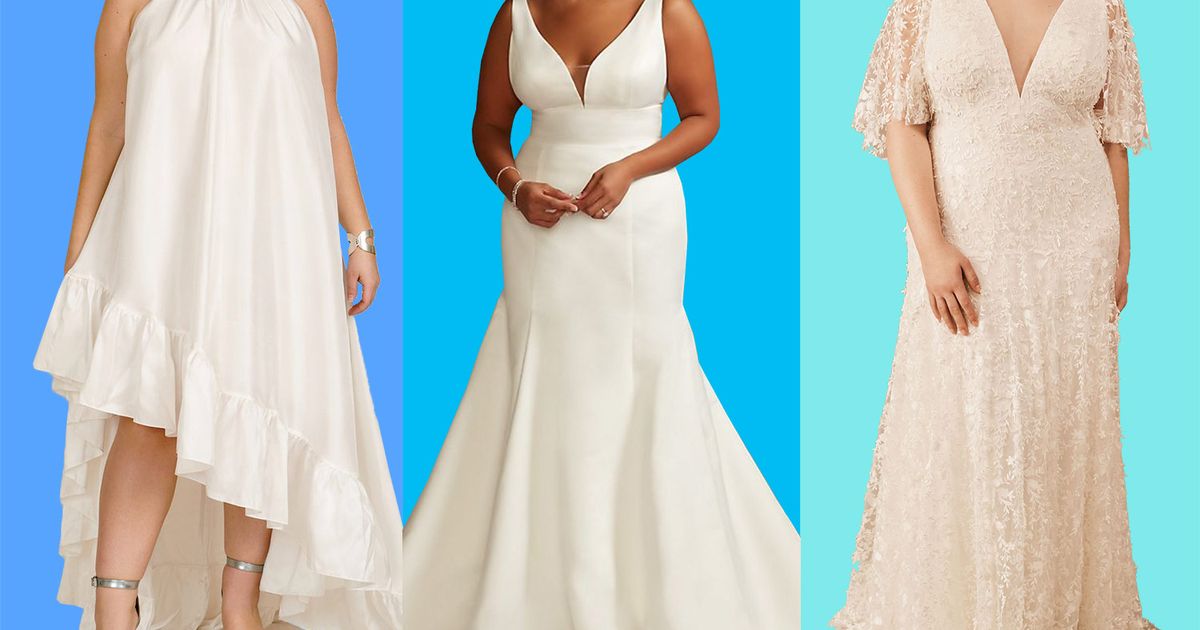 How to Shop for a Plus-Size Wedding Dress Online | The Strategist
19 items in this article 6 items on sale! Photo-Illustration: The Strategist; Photos: Retailers Whether
Photo-Illustration: The Strategist; Photos: Retailers
Whether you've been building a secret Pinterest board for years or couldn't care less what you're wearing down the aisle, wedding-dress shopping is inevitably a whole to-do. There's money, time, body-image issues, indecisiveness, and strong opinions (solicited and otherwise) at stake — and if you're plus-size, it's even more complicated. I'm getting married next year, so I'm in the process of figuring out what to wear on my body that fluctuates between size 14, 16, and occasionally 18. As a longtime retail reporter, I was optimistic that the bridal industry would offer plenty for size 14 and above (which is, after all, 68 percent of American women). Categories like swim, activewear, denim, and RTW have evolved so much — surely bridal has, too?
Unfortunately, that's simply not the case, as I've learned over the last few months. In traditional brick-and-mortar bridal boutiques, it's a successful visit if I can try two or three dresses that are vaguely my size; even rarer is being able to zip up all the way, since in-store samples usually max out at size 10 or 12. And this is bridal sizing we're talking about, which is anywhere from two to four sizes smaller than regular sizing.
Because of all that — not to mention the ongoing pandemic — shopping for my wedding dress online rather than in person has become increasingly appealing. Another advantage of e-commerce, I've gleaned, is that there's no body- or budget-shaming. When Sarah Chiwaya, a plus-size brand consultant and the founder of Curvily, got married in 2012, she told me her dress-shopping experience was nothing short of traumatic. "I was body-shamed left and right and treated like my $2,500 budget was nothing," Chiwaya recalls. Salespeople made it clear that being a size 14/16 meant she "should be grateful for any dresses I could try, and that I should get whatever fits," she says.
But online wedding-dress shopping is not without its own challenges. For starters, it's an especially tricky thing to shop for virtually. Bridalwear is generally very expensive and final sale (or exchangeable, if you're lucky). It's also difficult to assess fabric and fit quality before feeling or seeing in person, and because these aren't everyday materials or silhouettes for most people, the vocabulary can be confusing. You probably don't know how a mermaid gown compares to a fit and flare, or how different duchesse and mikado satin will look in photos. Details like beading and lace can look and feel very different in person than online, too; a lace might have a metallic sheen you're not a fan of, sequins that look glamorous onscreen may look like a cheap Halloween costume, and beading could feel too scratchy and heavy on your skin. Add to that the fact that the bridal industry remains quite old-school, so lots of brands don't sell direct to customers and are only available from the boutiques that carry them.
With that in mind, I spoke to a handful of experts and, combined with months spent wedding shopping myself, unearthed some standout brands and retailers for sourcing extended sizing wedding attire online, from plus-only, non-bridal options to traditional bridal stores.
Though a few specialty plus-size bridal brick-and-mortar stores do exist, such as Bombshell Bridal Boutique in Michigan and Refined Bridal Boutique in Alabama, you can't shop them online. So if you don't live near any of these spots or feel safer shopping virtually, I'd recommend starting with the bigger, multi-brand retailers in the bridal space.
When fashion blogger and brand consultant Liz Black was getting married a decade ago, David's Bridal was one of the first places that came to mind to shop for a wedding dress "because I knew they definitely carried my size, and that they would have my size in stock, so I could try things on." And while they had a limited selection back then, Black is even more impressed with their on-trend offerings these days. They're also relatively easy on the budget, she points out. "Personally, if I was getting married at this point, [David's Bridal] would be most likely the place I would buy my dress because they are the most affordable out there," she says.
They also offer perhaps the largest variety online, with more than 400 wedding dresses currently available in sizes 16W to 30W. Black also likes that they do collaborations "with so many different designers out there that would maybe not be affordable for someone," like Vera Wang White, their diffusion collection with the luxury bridal designer.
Chiwaya is also impressed with the mass retailer's offerings — like this Oleg Cassini gown — and she's found that their dresses run pretty true to size. Chiwaya advises seeking out video reviews, not just photos or written reviews, which will give you a better grasp on how a dress will look and feel. (Chiwaya feels so passionate about this, in fact, she launched an Instagram series called #inthefittingroom to share insights on how a brand's sizing suits her measurements and compares to her typical sizing, and how the clothes actually feel on her body.)
Chiwaya also likes BHLDN, the Anthropologie-owned bridal chain, which she says expanded their sizing last year to size 26. "I was really impressed with the quality — very luxe-boho, very on-brand," she says. "When I was getting married, I would've loved their stuff and been head over heels, so I'm really excited that they have plus sizes now." While not every gown is available in the extended 16W to 26W range, there's a decent range of 40 or so styles currently on offer. She recommends their at-home styling appointments, which she tried last year. "The stylists' knowledge is really in-depth. They've tried on every dress that they offer, they know all the materials, they can tell you about the fit, like, 'If you're bustier, this dress might not work, or you might want to size up in it and we can help you figure out exactly what your size is and any considerations or concerns you have,'" she says.
Both BHLDN and David's Bridal offer free shipping and returns, a rarity for bridal and really helpful for trying on multiple styles at home. "A lot of times you have an idea in your head — I had an idea of what I wanted for my dress, and then when I put it on my body, I was like, 'No, this is not for me,'" says Robina S, a Chicago-based plus-fit model. "Even if you have an idea of what you want, try on different silhouettes."
Keeping an open mind about silhouettes and materials while wedding-dress shopping is advice I've gotten at every in-person appointment. Obvious as it may seem, it's helped me reconsider ideas I'd written off preemptively, like one-shouldered anything or hip-hugging fit-and-flare dresses. But it's also reaffirmed what I definitely do not want, like sequins and beading, ultrashiny satin, or lace-up corseting that reminds me of Renaissance fairs; unfortunately, there's a lot of all that to sift through when looking at dresses in larger sizes.
Retailers specializing in expanded sizes are more likely to feature photos and videos on actual size 14-plus bodies that look like yours, which really makes a difference when buying a wedding dress online.
I've found 11 Honoré is the best place online for plus-size designer pieces, some of which might be fancy and special-feeling enough to get married in, with beautiful gowns and chic separates in extended sizing exclusively available on the site. "They do have actual designer labels and beautiful pieces in the 10 to 26 size range, so if you're looking for nontraditional bridal, 11 Honoré could be a good option," Chiwaya says, calling the site "similar to Net-a-Porter, but in actual plus sizes," with brands like Carolina Herrera, Brandon Maxwell, Jason Wu, Christopher Kane, and more.
Black also praises 11 Honoré's selection, though notes it's "obviously at a higher price point, if that's something that you're comfortable with." Selection isn't huge at any given time, but they often have a dozen options or so that could be nice for a more nontraditional or casual wedding.
I've found a few other online retailers focused on plus fashion and inclusive sizing that, while not expressly bridalwear, are worth browsing. CoEdition is one such retailer that came recommended by both Black and Chiwaya. It offers a virtual try-on feature for some dresses, including bridal styles, that lets you see the same dress on ten different models (or you can upload a photo of your own body). It also has size charts, plus a video instructing how to measure yourself at home for those size charts.
This month, CoEdition will have even more weddingwear when it starts stocking the relaunched Ella & Oak, one of the only, if not the only, plus-size online bridal retailers. Up until the pandemic, Ella & Oak carried exclusive styles with bridal designers like Rebecca Schoneveld, Love Lives Here, Blue Willow, and Anne Barge, but it'll soon be pivoting to private-label, made-to-order dresses under $1,000 available via CoEdition. Until then, you can shop a handful of Ella & Oak's samples at deeply discounted prices.
Chiwaya also suggests checking out Eloquii. While it doesn't have a dedicated bridal collection, it does have pieces that would suit a casual wedding or civil ceremony.
ASOS has a small wedding selection in its Edition collection of eveningwear, and an even smaller Curve selection within that, so it's definitely very hit-or-miss. Pricing is under $500 (most styles in the retailer's in-house ASOS Edition collection of occasionwear are even under $200).
Black likes eShakti, which carries sizes 0 through 36W and is "probably one of the more inclusive brands out there," she says. It also has the option to customize a dress's length, sleeves, and more. "Their sizing seems to be pretty spot-on" and true to size, unlike most bridalwear, in Black's experience, but you can also order to custom measurements for $10 extra for a more precise fit.
Many traditional bridal designers do technically offer plus sizes since they produce dresses made-to-order, but a few stand out for really excelling at designs for more generous dimensions and making plus brides feel truly welcome.
I've fallen hard for Halfpenny London, a fashion-forward, elegant, whimsical, and size-inclusive bridal label with lots of separates and ways to layer and mix and match. Designer Kate Halfpenny is a Central Saint Martins–educated former fashion stylist and costume designer who's fuller-figured herself, and she's made extensive sizing a true priority without siloing larger sizes to a curve or plus line. Her dedication to inclusivity comes through in a way I haven't found from any other bridal designer of her taste level and caliber of craftsmanship.
The brand also excels at showing its designs on varied body types on Instagram and in its lookbooks; samples at its London boutique go to at least a size 18 (a 5 or 6, in Halfpenny London's 0–8 sizing range). The brand is available up to a Halfpenny size 5 online via e-tailer Over The Moon; there's also a small edit of exclusive designs on Net-a-Porter, but sizing is more limited.
The Law is my other favorite fashion-forward, thoroughly modern bridal brand from Philly-based designer Megan Lawrence. A relative newcomer in the bridal space (launched in 2018), Lawrence's designs are architectural and powerful, perfect if you're not interested in all the lace, florals, and froufrou out there. Like Halfpenny, The Law specializes in elegant, unfussy separates that would work well for a civil ceremony or elopement. But regardless how small or big an event you're having, I love that these are extremely chic pieces that I'd actually want to wear post-wedding, which feels like more bang for your buck — and more sustainable, which is a rarity in bridal. Plus, Lawrence also started using luxe green-certified, ecofriendly fabrics for some styles in October 2020. A few pieces can be ordered online, made-to-order and available up to a size 24.
Other styles from her collections can be ordered or customized by request, through the brand directly or from a handful of stockists (primarily smaller boutiques that specialize in unique, not-basic bridal brands, like NYC's The One Bridal).
Tarik Ediz is a favorite of Lundyn Carter, founder of Atlanta wedding dress–rental boutique Laine London, and her plus-size customers. The "phenomenal" Turkish formalwear brand's dresses have "structure, flow, and design that's just very different and unique to that specific region in the world, and different to what we see in bridal shops" in the U.S.
"Think outside the box. If you are not super-traditional, you don't have to go pick something that has been deemed a 'wedding gown,'" Black says. I've realized I need to cast a wider net to find more modern, fashion-y options that don't really exist within my budget among bridal designers. With that in mind, I've been combing through the sites of department stores with ample eveningwear inventory, like Bergdorf Goodman, Saks Fifth Avenue, and Nordstrom, as well as resale sites like The RealReal and Poshmark. Look for formalwear-focused designers that do extended sizing when scouring these sites. For example, Black likes Tadashi Shoji for "beautiful dresses in plus and straight sizes, and their prices are really good," she says. "You expect these dresses to be thousands of dollars; instead they're hundreds of dollars."
Another piece of advice I've heard repeatedly is to consider your height and where your curves are when choosing materials. Carter, for example, says "chiffon, one of the most popular fabrics for weddings, is light and airy and may look better on a plus-size bride who's taller; the same dress will look a lot different than a bride who is five-foot-two and the same weight." Some fabrics are a safer bet if you're bridal shopping online. "The main thing you have to do is look at the materials," adds Robina S. Australian brand Grace Loves Lace has, per its name, a lot of lace featured in its body-hugging, slit-happy designs, and much of it is stretch lace.
I had a particularly pleasant, informative experience at their NYC store. I was able to try more dresses on than at other bridal appointments, thanks to that stretch lace and a variety of easier-to-put-on separates. Even though the brand's beachy, boho, sexy-bride vibe isn't quite for me, it was really helpful to compare necklines and back and cleavage coverage, and to see what certain things I'd preemptively written off (anything ultratight around the butt and hips; slip dresses; slits of any kind) looked and felt like on my body. Grace Loves Lace's full collection is shop-able on their site, and though the ready-to-wear inventory only goes up to a size XL (equivalent to a 12), the made-to-order option for any style is based on your measurements.
Although shopping for bridal at sample sales and consignment can be a bit … ambitious, I'd be remiss to not mention it as an option. Many indie bridal shops and brands have taken their usual in-person sample sales online during the pandemic, so if you live for the hunt like I do, it may be worth your while. Just be sure to factor in the cost of alterations and cleaning, which can easily be hundreds of dollars depending on the sample's condition.
A couple cool-bride chainlets have online sample sales with a decent selection of larger sizes, too. Lovely Bride has 19 locations for in-store shopping, and HALO by Lovely (Help a Lovely Out) is their online, ongoing sample sale of store samples and brand-new ready-to-ship styles. HALO dresses are available in specific brick-and-mortar locations only, so if you happen to find some you like in a Lovely store nearby, you can request to try it on at your appointment. I tried a few HALO finds when I visited Lovely's NYC location, and my experience there was excellent.
A&bé is another hip, modern bridal chainlet with locations in Dallas, Denver, Minneapolis, Portland, Sacramento, and Seattle that has an online sample sale. In addition to store samples, a&bé sells consigned used dresses from former brides. The consigned dresses from a&bé are essentially a more streamlined way to buy a secondhand gown than sites like Stillwhite, Nearly Newlywed, and Something Borrowed, which is another route I'm exploring. Deals can be substantial, and in many cases, you can even negotiate with the seller (a mix of real brides selling their own dresses and bridal retailers using these sites as their online sales platforms). I'd only recommend this route if you don't mind — and maybe actually like — a time-intensive research process. Take it from me, though: That delicious thrill of a hard-won bargain feels even better when it's for wedding garb.
The Strategist is designed to surface the most useful, expert recommendations for things to buy across the vast e-commerce landscape. Some of our latest conquests include the best acne treatments, rolling luggage, pillows for side sleepers, natural anxiety remedies, and bath towels. We update links when possible, but note that deals can expire and all prices are subject to change.