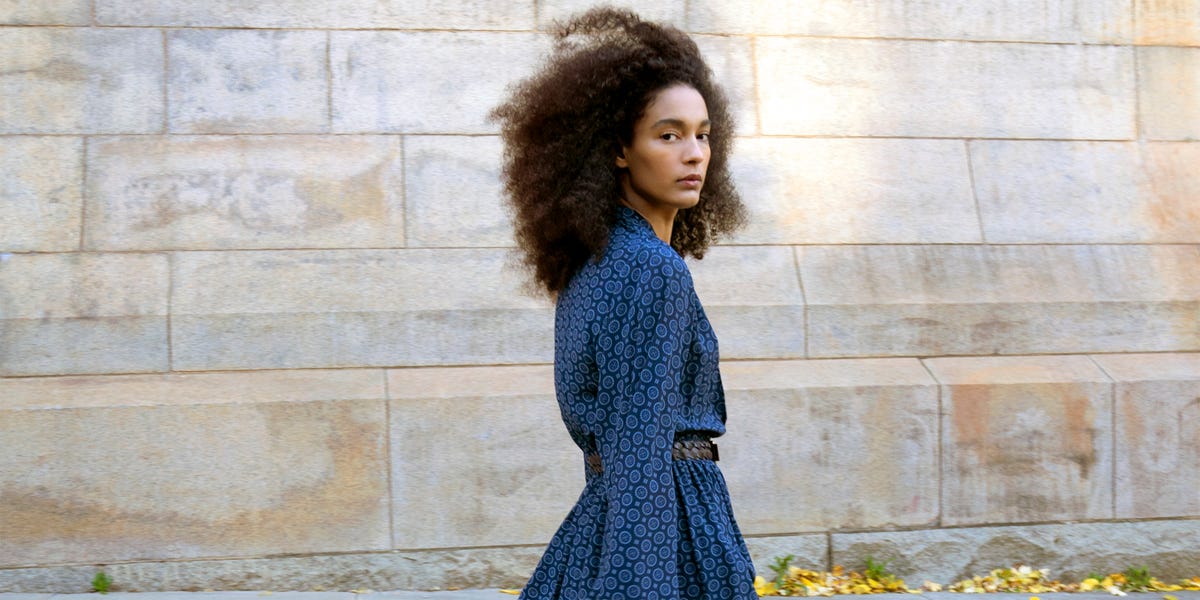 How Fashion Designers Are Infusing Comfort in Their New Collections
"Sweatpants are a sign of defeat," the late Karl Lagerfeld famously said. It was a
"Sweatpants are a sign of defeat," the late Karl Lagerfeld famously said. It was a typical Karlism: arch, provocative, a little judgmental —and one that looks different in light of our current moment. Once considered the domain of gyms and couches, sweatpants became the de facto uniform of early last spring as millions were forced to work from home at the start of the pandemic. Sales soared to reflect our collective embrace of elastic waistbands, and soon gumball-colored and tie-dyed versions turned Instagram algorithms on their head. As COVID-19 stretches past the one-year mark, will sweatpants stick around?
For those who crave the mood-boosting effects of getting dressed but are unwilling to forgo flexible waistbands in this new normal, designers are proposing a sleek take on comfort dressing for Spring 2021. "Instead of sweatpants, why not a crepe de chine bathrobe dress and pajama pant?" Michael Kors says of his collection's loungewear-inspired hero, which is fastened with a belt and features two clashing foulard prints. "It feels polished and glamorous, but still gives you that ease and sense of comfort."
The Kors look was a best seller on Moda Operandi. "Fashion and comfort are not mutually exclusive," says the online retailer's fashion and buying director, Lisa Aiken, pointing to increased demand for functional clothes with flair. "Robes are one of the season's key emerging staples." Balenciaga proposed plush faux-shearling bathrobe coats in black and red, and Rosetta Getty a glamorous white silk satin dressing gown worthy of Jean Harlow. Even Paco Rabanne, a house best known for space-age chainmail dresses, is figuring out how to do comfort without compromising its avant-garde DNA. Creative director Julien Dossena's seasonal statement piece is an ankle-length leopard-print robe worn over a bustier and washed denim.
Dior creative director Maria Grazia Chiuri also adapted house codes to the moment. Her kimono-like update to the sculpted Bar jacket, which takes its cue from a piece Christian Dior designed for a 1957 show in Japan, can be cinched to create the classic hourglass silhouette or worn loose. "It directly meets a need for freedom and personalization, as its laces let the wearer shape it to their body however they like," Chiuri says, "making it perfect for the feeling of fragility we are experiencing today." Chiuri's wrappers were inspired in part by 20th-century authors who wrote from the intimacy of their homes, such as Virginia Woolf and Susan Sontag. Sontag proved an unlikely muse of the season: her 1992 novel, The Volcano Lover, featured on Erdem Moralioglu's mood board. Famous for romantic eveningwear, he bundled oversize cardigans over toile de Jouy separates. "The contrast of a beatnik knit, very sloppy, and denim overprinted in an 18th-century motif felt modern and told the story," Moralioglu says.
Wrapping up tight makes us feel safe and protected, and designers are offering a range of options for cocooning in sumptuous layers (with none of the crumbs or Snuggie effect). At Prada, capes were gesturally drawn around the body, while at Gabriela Hearst, models wore hand-knit cashmere ruanas that brushed the runway. And at Fendi, creative director Silvia Venturini Fendi showed her version of the housecoat—a couture-esque equivalent of being covered in a fluffy duvet, embellished with feathers and fur by the house's master artisans. "This collection incorporated embroidered housecoats to elevate the comforts of home," Venturini Fendi explains. "They tell the story of the Italian craft and the emotion of our current universal experience." The housecoats are an example of what she calls "maternal souvenirs"—heirlooms meant to be passed down from mother to daughter—an idea she got while spending time at home in Rome with her family during lockdown.
Fashion is tasked with predicting the future: Collections are designed months in advance to anticipate what we will want to wear next season. But it's also the job of designers to interpret the present and add beauty and meaning to it. So despite the fact that many of us are still not really going anywhere or being seen from the waist down, we nevertheless have a yearning to get dressed. "This time has been a catalyst of reflection and quiet moments, so comfort has been vital," says Venturini Fendi. "But there is still a desire to feel transported."

---
FASHION EDITOR: MIGUEL ENAMORADO. MODEL: LUISANA GONZÁLEZ; HAIR: DYLAN CHAVLES FOR ORIBE; MAKEUP: ASAMI MATSUDA FOR LA PRAIRIE; MANICURE: AJA WALTON FOR ESSIE.
This article originally appeared in the February 2020 issue of Harper's BAZAAR, available on newsstands now.