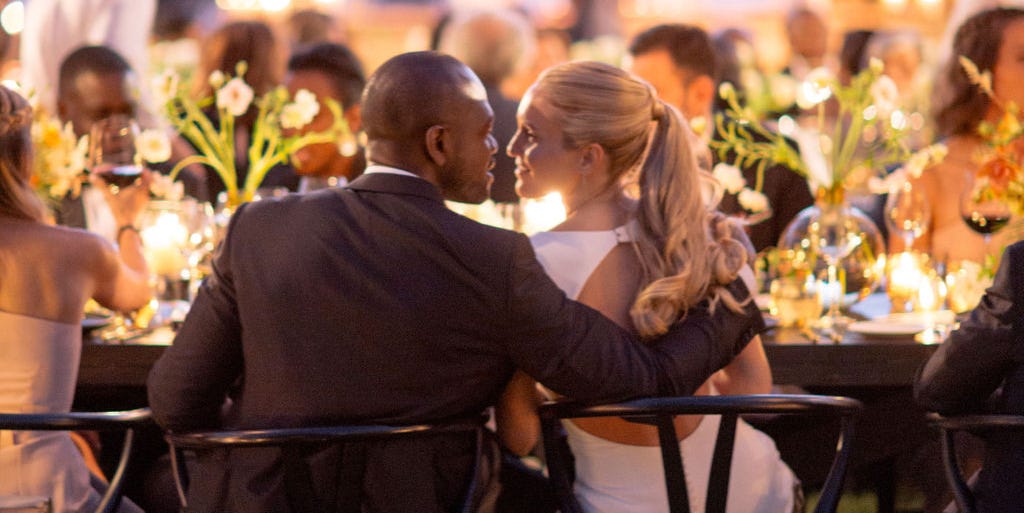 Guests Flew In From Around the World For This Sleek, Modern, (Pre-Covid) Wedding in Northern California
Kathrin Helminger has no recollection of Marvin Larbi-Yeboa being at the rooftop party where their
Kathrin Helminger has no recollection of Marvin Larbi-Yeboa being at the rooftop party where their paths officially crossed for the first time. "Supposedly he saw me, but I don't remember seeing him at all. It's something we joke about to this day," she tells BAZAAR Bride.
But Marvin remembers that summer night differently. "I remember seeing her walking over from the other side of the terrace and all I could think was 'wow.' She was stunning and there was just something about the way she carried herself," he recalls.
A couple of months later, a mutual friend of theirs (who had also been at the gathering) put them in touch when Kathrin was on the hunt for a new job and thought Marvin could help. When they finally had a proper meeting, it was for drinks at the San Francisco restaurant Prospect. Instead of finding her dream job, Kathrin found the love of her life. "We later found out that we both ended the night thinking we met our dream partner," she says. "I remember messaging a friend after meeting Marvin saying that I had just met the perfect man."
At the beginning of their relationship back in early 2016, they were both living in San Francisco; but in search of that next career move, Kathrin accepted a job back in Luxembourg, where she is originally from. They did the long-distance thing for a couple of years. Luckily, Kathrin's work as a strategy consultant meant that she had some flexibility in her schedule. Marvin, a mergers and acquisitions investment banker, was flying frequently for his job as well. The two made it work and managed to see each other at least once a month. "Long-distance can definitely be hard, but it's worth it when you know you have the right person by your side," Kathrin says. "We really made the most of it. We traveled a lot and met up in different cities and countries, which was exciting and fun."
One of their first trips as a couple was a surprise jaunt to the Caribbean where they swam with stingrays and soaked up the crystal clear water. Another early adventure was a road-trip through Italy, from Rome through Naples and then up the Amalfi Coast. That trip included Marvin's first visit to Luxembourg, where he's since been multiple times. On another trip, the pair headed to Ghana, where Marvin grew up. And while some of their favorite long weekends included visits to hotspots across the globe like London, Paris, and New York City, Marvin decided that their home in San Francisco was the perfect spot when it came time to propose.
Two and a half years into their relationship, Marvin asked Kathrin to marry him. She had picked him up from work and they then headed home, where Marvin asked if she wanted to go for dinner at Cotogna, their favorite Italian restaurant and the site of their first official date as a couple. With the reservation set for later in the evening, they passed the time by taking it easy on the couch and watching TV.
"Suddenly I checked the time and realized we were running late," Kathrin recalls. "I got up in a hurry to get ready, and that's when Marvin gently pulled me back and got down on one knee. The setting was very casual, but so special and intimate because it was just the two of us; it was in the moment, and I totally didn't expect it—I'm pretty sure I blacked out for a couple of seconds," she remembers. "I never really thought much about how I wanted to be proposed to and I didn't suspect anything. I loved it so much. My heart was racing with too many emotions all at once, but it was the best feeling."
During the private moment, Marvin gave Kathrin a round solitaire engagement ring set in a platinum band with a pavé setting, designed by local jeweler RP Diamonds. He'd been carrying it around for a while and planned to propose a few months prior on a trip to France—but being in their home just felt right. Marvin waited until that low-key evening to pop the question before they headed to dinner to celebrate.
After emotions soaked in and the couple had looped in their loved ones, they started to consider where to host their wedding. With the bride's family in Europe, the groom's in Africa, and the couple living in America, it was inevitable that their wedding would be a destination event for most, no matter where they chose. They eventually decided to keep their celebrations close to their home in San Francisco and headed up north to the Napa Valley. After moving back to California after their engagement, the proximity to their venue allowed Kathrin to be that much more involved in the wedding planning.
When they were considering venues and trying to land on a date, Kathrin and Marvin were vacillating between hosting a wedding in 2019 or 2020. They fortunately went with the former, but their decision gave them only five months to plan. As hands-on as Kathrin wanted to be, a tight time frame meant that enlisting an event planner was a necessity. They found planner and designer Rosemary Hattenbach of Rosemary Events, who guided them through the whole process. "She did it all. We were so relaxed on our wedding day," says the bride. "We didn't even have one concern throughout the day."
The international guest list meant loved ones crossed quite a few time zones to attend the destination wedding weekend, traveling to California from South Africa, Belgium, the United Arab Emirates, the east coast, and more. Kathrin and Marvin's celebrations kicked off with a welcome party at The Charter Oak in St. Helena. The restaurant's outdoor area was the perfect setting for passed canapes and bountiful cheese and charcuterie boards. Craft cocktails were served along with a selection of Napa Valley wines at the laid-back gathering, where many of the couple's guests met for the first time.
"A lot of our guests told us it was really nice [to meet ahead of time] instead of just on the wedding day itself," Kathrin says. "It also allowed us to speak to most of the guests and enjoy the time together. We found it took away the stress of worrying about speaking to each guest on the wedding day—it was the perfect way to start the weekend."
The following day everyone reconvened—this time at a stunning, modern, private estate set atop a hill overlooking Napa Valley. The black-tie affair was formal and elegant yet welcoming and focused on the blending of Kathrin and Marvin's families.
Abby Ross of Abby and Lauren Photography (a Bazaar Bride Top Wedding Photographer) was tapped to capture the event. "Abby was amazing to work with. She was so laid back and truly made us feel comfortable, especially [as someone] not being used to being the center of attention and having cameras follow our every move," says the bride.
With less than five months between confirming the wedding date and it actually happening, Kathrin was told by many that her options for dresses would be limited. But she found exactly what she was looking for at Novella Bridal in San Francisco: a crepe fit-to-flare Pronovias gown with a sleek, bateau neckline. The gown was no-fuss, minimal, and chic, and she was even able to make minor modifications to the gown like adjusting the back and shortening the sleeves. "This dress not only reflected my personal taste, which is modern and classic with a touch of spice, but the clean lines also reflected the [minimalism] of our wedding venue," she explains.
Novella Bride also helped Kathrin source her veil—a cathedral-length style made by Finesse. It was important to her that it not detract from or hide the cut-out back of her wedding gown. The delicate veil had floral lace on the comb and around the perimeter of the hem, offering a dose of romance but keeping the focus on her gown's open back.
With Marvin being nearly 6'5", Kathrin searched for heels that were high but comfortable enough to walk in on grass and gravel and well into the night. Not wanting a chunky heel, she was thrilled to find a pair of almost 5-inch, dusty pink Nicholas Kirkwood platform sandals with pearl accents around the front.
Keeping with tradition, she mixed her "something old" and "something new" when it came to her jewelry, wearing both a pair of dangly diamond earrings gifted to her by her girlfriends and diamond studs she'd gotten from her mum years before. Her "something borrowed" was a classic diamond tennis bracelet, on loan from one of her bridesmaids. "We forgot about the 'something blue' part," Kathrin notes. "We decided that since my eyes are blue, we would be just fine." Her makeup artist, Artists by Sherrie Long, made her eyes pop with a natural makeup look and styled her long, thick hair into a high ponytail for a playful yet sleek juxtaposition to the classic style of her dress. She accented the look with a bouquet of blooms that transitioned from soft creams and peaches to deeper pinks and reds.
Marvin also went for a classic look, wearing a custom Zegna tuxedo and fitted shirt, cummerbund, and bow tie. "I have shopped with them for years. They have the best fabric out there, great service, and they go the extra mile to produce a flawless product," he explains. He rounded out his ensemble with a pair of Christian Louboutin patent-leather loafers that were equal parts sleek and comfortable. His groomsmen followed suit with their formalwear, while Kathrin outfitted her bridal party in soft pink, one-shoulder dresses with dramatic slits found online through Undress, given that in-person shopping was off the table for the global group.
Set later in the day to avoid the heat of the California sun, the ceremony took place in a French-style garden with rows of trees creating an intimate setting. A cellist from Synchronicity Strings played classical selections by Bach and Elgar for the processional, but switched gears for the recessional with Coldplay's "A Sky Full of Stars."
After exchanging vows, the newlyweds invited guests through an olive grove to the back lawn for cocktails and a grand reveal of the breathtaking scenery. The string ensemble performed instrumental versions of some of the couple's favorite pop songs as everyone nibbled on passed bites like Kampachi tiradito with avocado, pepitas, and citrus and lamb cheek croquetta with charred plum and fine herbs, prepared by Componere Fine Catering.
The event flow was key, with different parts of the property revealed as guests moved from the ceremony to cocktails, and then on to dinner and dancing. The crescendo was the dinner reception overlooking the valley below. To mimic the clean lines of the modern home, the reception was designed with tables set under an open-air, blonde-wood pergola, designed in a U-shape around a dance floor. And while contemporary reed lanterns were hung to illuminate the meal, it was a spectacular sunset that set the space aglow just as dinner was being served.
To maximize the breathtaking setting, it was important that the décor complemented the space, but didn't detract. When discussing the event's design with Rosemary and event designer Mindy Rice of Mindy Rice Design, a simple, modern approach was decided on, complete with neutral tones and pops of color. The dining area had a streamlined, contemporary look. Dark wood dinner tables were paired with classic black Wegner chairs. At each setting, guests' names on black tags were tied around neutral, minimalist menus by PS Paper, all set atop stone ceramic dinner plates and onyx Heath Ceramic chargers. Brushed gold flatware added warmth to the setting. The look created a clean canvas for floral arrangements displayed in a variety of amber glass vases which mirrored the colors of the Napa sunset.
The couple wanted the evening to feel like an elegant dinner party, and they worked with their caterers to customize a singular menu rather than offering entrée selections. It incorporated a pasta dish inspired by their go-to Italian restaurant in San Francisco, where they had their first date and celebrated their proposal. "When we went to the tasting it was phenomenal; we knew it was the right choice to go with Componere. They learned about our tastes and favorite restaurants and specifically what we liked about each and used that as inspiration," Kathrin says.
Perhaps the most personal menu item was the crêpe station for dessert at the suggestion of the bride's best friend. Neither Kathrin nor Marvin care for cake, and crêpes "felt a bit more like home," given their memories in Europe eating crêpes together at a fair, park, and Christmas market. The made-to-order set-up was a great touch, and because they were smaller in size than the traditional French pancake, they were easy for guests to take with them as they headed to the dance floor.
Once the reception began, Patrick Belton of Dub Gypsy spun a mix of Afrobeats, old school hip hop, and modern pop, combining different styles of music from around the world and keeping the dance floor packed all night. He also played a version of Adele's "One and Only" that he'd edited exclusively for the couple's first dance.
As the weekend came to a close, the bride felt it was "like a dream, but better," noting that nothing can top being surrounded by loved ones, celebrating love and happiness together with a combination of great food, good music, an amazing setting, and good ambiance.
Still on a high from the celebrations, the pair headed to The Ritz-Carlton Lake Tahoe for a few days to rest and relax among nature after their wedding. "Who would have known that a wedding would take so much energy?!," Kathrin recalls. They hiked, decompressed, and enjoyed the hotel's burgers before heading back to San Francisco.
Kathrin and Marvin deliberately scheduled their actual honeymoon several months later because they had already planned on taking a few international trips in the months following their nuptials. Their honeymoon itinerary boasted multiple destinations—but the pandemic put a pause on those plans. Instead, the couple opted for a trip into the desert, heading to Canyon Point, Utah and checking in to Amangiri for a few nights of relaxation peppered with adventure.
Kathrin had visited Lake Powell previously and was amazed by its beauty and how many different sights there are to see. While out on a boat ride, their captain suggested checking out Labyrinth Canyon, a nearby hidden gem that reminded Kathrin of Antelope Canyon (which was closed to visitors at the time). "It's only accessible by boat during specific times due to the tide, and you need to know how to find the slot. Once we got close enough with the boat we had to swim for a part of it to the entrance of the canyon. It was truly magical to experience walking in between these magnificent warm-toned, smooth and flowing-shaped sandstones that are formed over hundreds of years from water running through. And we were lucky to get to experience it without anyone around us."
Another one of their adventures was a Via Ferrata climb exclusive to Amangiri guests that provides a 360° view of the property once you reach the top of the mesa. "Just being at Amangiri is an experience in itself. The location, the incredible architecture of the resort, the views of the landscapes and mesas, the pool that's built into a rock, the sunrises and sunsets, it truly feels like a different place on earth," Kathrin says.