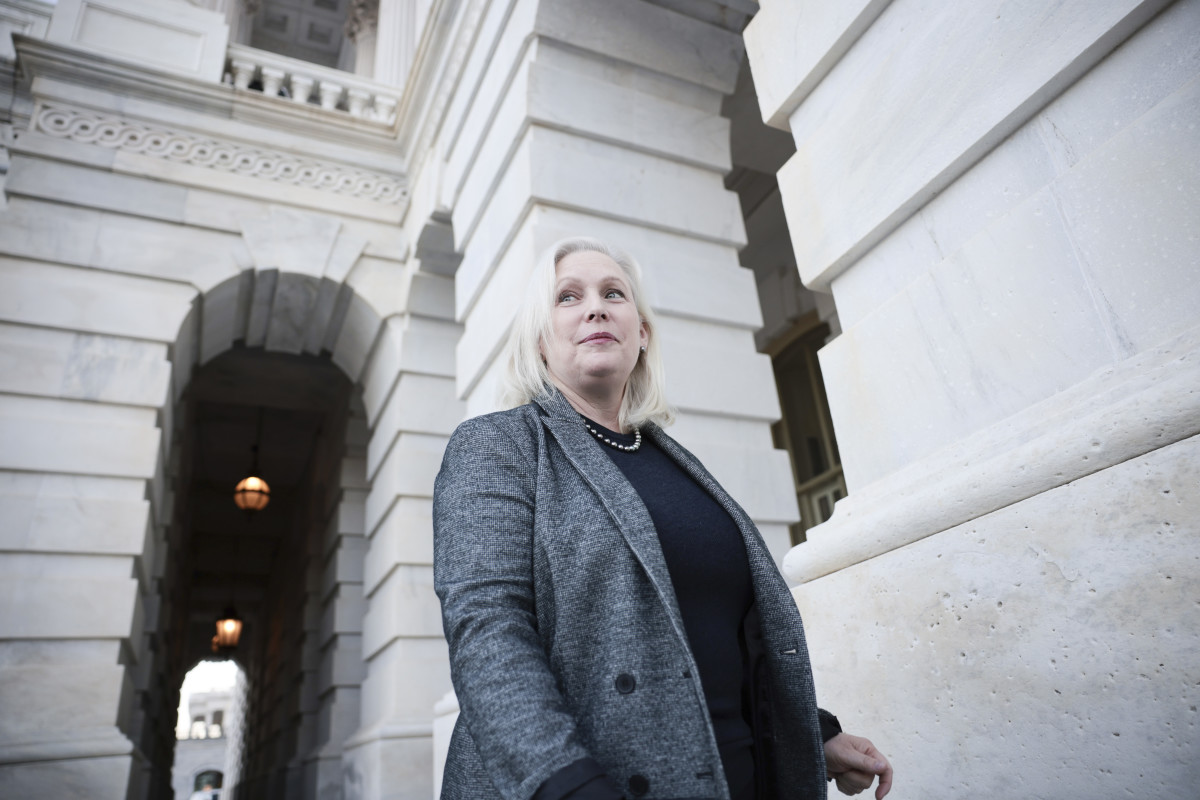 Everything You Need to Know About the FABRIC Act, the First Federal Fashion Bill
Photo: Anna Moneymaker/Getty Images Last week, New York Senator Kirsten Gillibrand announced a new piece
Last week, New York Senator Kirsten Gillibrand announced a new piece of legislation that would address labor concerns and worker's rights in the U.S. garment industry. The Fashioning Accountability and Building Real Institutional Change (FABRIC) Act was introduced to the Senate on May 12, with Senator Cory Booker (D-NJ), Senator Elizabeth Warren (D-MA) and Senator Bernie Sanders (D-VT) as co-sponsors. 
The next day, she held a press conference in New York City's Garment District, speaking alongside Mara Hoffman, Workers United's Edgar Romney, Remake's Ayesha Barenblat, Ferrara Manufacturing's Gabrielle Ferrara and Teresa Garcia of the Garment Worker Center of Los Angeles about the importance of this bill. 
"Every single day, every one of us starts the morning getting up and getting dressed. 'What are we going to wear?' But the question we don't ask ourselves is, 'What did it take to make the clothes that I'm going to wear?' The answer to that question is an answer we don't want to hear," she told the small crowd gathered on the floor of Ferrara Manufacturing. "The reality is that the people who make our clothes are too often not employed fairly or treated fairly or paid fairly for their work in an industry that's vital to our economy and our daily lives. It's an unacceptable reality that we have to address head-on."
Sen. Gillibrand noted how, while the tragic Triangle Shirtwaist Factory fire in 1911 brought attention to unsafe work conditions in the fashion industry and led to legislation, little has been done since on the policy front — even though many of those issues persist 111 years later.
"This legislation will help ensure that when we go to our closets in the morning and look for something to wear, we can find clothes that were actually made in America and made fairly," Sen. Gillibrand said. "These measures are going to change the game."  
Here's what you need to know about the FABRIC Act, the first federal fashion bill. 
What would the FABRIC Act do?
The FABRIC Act has five main action points: to end "piece rates," creating productivity incentives for workers on top of hourly minimum wage pay; to institute liability measures for brands that hold them and their manufacturing partners accountable for their labor practices; to establish new record-keeping and transparency measures, such as a national registry of garment manufacturers at the Department of Labor; to encourage brands to bring their garment manufacturing back to the U.S. through various tax incentives; to introduce grants for companies that manufacture domestically. You can read the full text of the bill on Sen. Gillibrand's website. 
Why now?
Over the past year, we've seen lawmakers across the country make moves to address labor issues in the garment industry. California successfully passed SB62 last September, eliminating the "piece rate" and establishing new measures to hold brands accountable for their contractors' labor violations; in New York, Senator Alessandra Biaggi and Assembly Member Dr. Anna Kelles introduced the Fashion Sustainability and Social Accountability Act (Fashion Act for short), which is currently in committee. Paired with the FABRIC Act, this is arguably the most policy we've seen emerge on this front in the U.S. since the Fair Labor Standards Act of 1938.
"When you're trying to create a nationwide movement, it helps when states are moving the same legislation at the same time," Sen. Gillibrand said of the timing of these bills. "When we were trying to achieve LGBTQ equality, it helped that we were working to pass marriage equality in New York and in several other states, but also on the federal level, [we were] repealing 'Don't Ask, Don't Tell.' Each success builds on the next success. Because there's momentum around what California's done, what New York's about to do, this federal legislation will also gain momentum."
"I think people are tired of employers that take advantage of them," she continued. "We look at the unionization movement we've seen in Amazon and in Starbucks, and we see workers mobilizing — younger workers, newer workers who never thought about joining a union or participating in unionization actually working hard towards that end. So I think there's a real push towards economic equality, economic opportunity and sustainability that this movement is very much a part of. There are synergies at work that will help each other, no matter where you are in the country, succeed." 
Sen. Booker, Sen. Warren and Sen. Sanders are co-sponsors on the FABRIC Act. 
Who has endorsed the FABRIC Act? 
So far, the following groups have endorsed the FABRIC Act: AFL-CIO, Unite Here, Workers United, SEIU, RWDSU, National Employment Law Project, Garment Worker Center, Partners for Dignity and Rights, Worker-Driven Social Responsibility Network, Bet Tzedek Legal Services, Remake, Fashion Revolution, Fashion Revolution USA, Model Alliance, Center for Advancement of Garment Making, Fashion Connection, Skilled Laborers Brigade, Sustainable Brooklyn, Custom Collaborative, Slow Factory, ICAR, New York Fashion Workforce Development Coalition, Made in NYC, Pratt Center for Community Development, New Standard Institute, The Co-lab, Holly Getty, Honor, Kamrin Huban, DC Sustainable Fashion Collective, Circular Services Group, California College of Arts Fashion Design, GCNYC, Pratt Institute, Fashion Design and Fair Trade LA.
Brands, designers and manufacturers that have expressed support for the bill include Mara Hoffman, Reformation, Another Tomorrow, Argent, New York Embroidery Studio, Hickey Freeman, Mi Jong Lee, Maven Women, Indigenous, CantiqLA, Open Studios, Faherty, Thrilling, Swap Society, Ethix Merch, Senza Tempo, Zyem NYC, Jacques Louis, The Chocolate Cosmos, Johnathan Hayden, Kindom, ThredUp, Maybelle NYC, Nisolo, EcoFashionCorp, Ferrara Manufacturing, SAITEX, Botanical Colors, Made X Hudson, Sew Co., Rite of Passage, Alex Crane, Wing & Weft Gloves, Lizzie Fortunato Jewels, Reid Miller, Tact & Stone, Timberlake Studios, Triarchy, Fibershed, Upcycle It Now, Nana Atelier, Transparentem, Toit Volant, Et Tigre, Minimalist and Everlane.
What else did Sen. Gillibrand and some of the FABRIC Act's early supporters say about it?
At the press conference, Ferrara, Hoffman, Romney, García and Barenblat spoke about why they're backing the FABRIC Act and what impact it could have on garment workers. 
García, who's been working in the industry for over 30 years, talked about how harmful the piece rate is and how much garment workers would benefit from laws similar to SB62 in her home state of California. "I feel happy because we will all have the opportunity to have a fair salary, wherever the sewing factories are," she said, through a translator. "We'll have the opportunity to earn more, to pay for our families' food and to pay our rents more easily. This effort is about everyone being treated equally and with dignity. Garment workers throughout the country will feel satisfaction in their workplaces, be able to earn a little more, having a law that protects them well."
You can watch their remarks in full below.
In a statement posted to Sen. Gillibrand's website, New Standard Institute's Maxine Bédat — who worked on New York State's proposed Fashion Act — said: "This bill matches incentives to produce in the US with strong worker protections, which can help ensure that an increase in worker protections doesn't have the unintended consequences of shrinking the domestic industry. We are thrilled that Sen. Gillibrand understands the important role the fashion industry plays and the need to protect domestic workers. The FABRIC Act will be a part of a suite of legislation that needs to pass to address the social and environmental issues facing the fashion industry."
What happens now?
Want the latest fashion industry news first? Sign up for our daily newsletter.