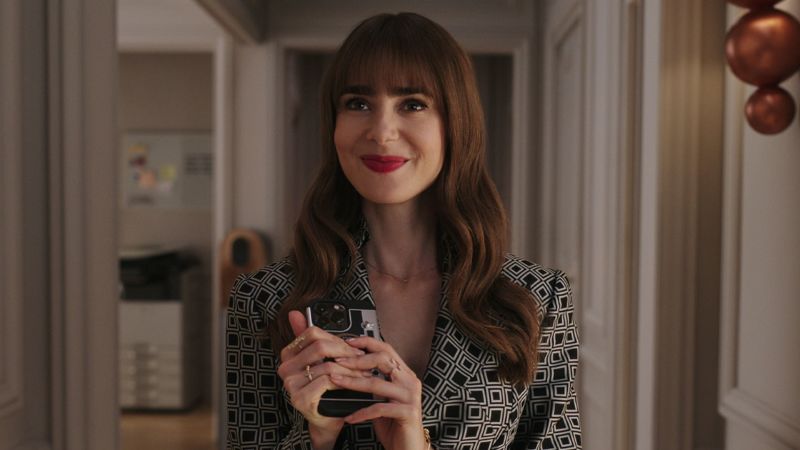 'Emily in Paris' makeup artist shares 8 beauty essentials for the show
Filled with more juicy drama, avant-garde fashion and bold beauty, the new season of 'Emily
Filled with more juicy drama, avant-garde fashion and bold beauty, the new season of 'Emily in Paris' dropped on Netflix on Dec. 21, just in time to give us plenty of style inspo for the new year.
Within the first two minutes of the series' third installment, we see Emily Cooper, played by Lily Collins, make a drastic beauty change as she chops her hair into bangs. The new fringe sets the tone for the beauty looks of the season — a little more French, and a lot more dramatic.
"We wanted to make the makeup evolved in a way that brings more fun and more French glamor," says the show's lead makeup artist Aurélie Payen. "We had to make some statements in hair and makeup to show that she has changes happening."
Emily's new hair not only shows her embrace of Paris — bangs, according to Payen, bring some "French cool attitude" — but also keeps her bold lipstick as the center of her makeup. "[Emily] is very vocal. She has a lot of things to say. So we needed to keep that focus on the mouth," Payen explains. Vibrant lip colors were present in seasons one and two, but they become even more emotive and especially lean into powerful red tones in season three.
Likewise, the audience sees an evolution for Emily's friends Mindy (played by Ashley Park) and Camille (played by Camille Razat). As Mindy secures a gig performing at a jazz club, her centerstage fashion and makeup become super flashy. Meanwhile, we see Camille working at an art gallery, where her style matches the creative setting and her beauty looks get an added edge with graphic liner.
To create the dynamic beauty looks, Payen relied on a bevy of French products. From Parisian staples like Payot and Talika to worldwide favorites from L'Oreal and Lancôme, the makeup and skin care used on set added an extra dose of French flair.
Here, Payen shares eight French beauty products used behind-the-scenes. Consider them un petit plaisir ("a little treat") and add them to your own routine to achieve that effortless French-girl style.
Skin prep is essential for makeup looks that will last through the long days of filming. "I really love to do a massage before applying any makeup because it's really relaxing for the skin," Payen shares. This quartz roller was a favorite beauty tool on set for massaging and depuffing.
Payen loves these reusable eye patches from Parisian brand Talika. They're great for refreshing tired eyes as they deliver ceramides and shea butter to plump and moisturize the under-eye area.
Collins' makeup looks were all about the lips this season. The makeup artist used this longwearing matte lipstick in the shades French Idol, Rouge Pigalle and Mademoiselle Lupita to make her lips pop. "I love to work with matte shades, because these are the ones that bring more deepness," Payen says.
Camille's character is the "quintessence of the French girl," according to Payen, which we see in her effortless approach to style. She's never too done up, but her looks become more experimental in both fashion and beauty.
"When we do 'Emily in Paris,' we are very into the fashion right now, what we are living right now and what can also be avant-garde," Payen says. Reflecting the adventurous spirit of current trends, Payen translates this into bold, graphic eyeliner for Camille with this precision tip pen.
A beauty trick Payen does to keep skin looking natural is to apply translucent powder only on the T-zone. This way, you can control shine but your makeup won't look too heavy. "Actually seeing the skin under the makeup is very important," Payen says. This makeup artist-loved setting powder is completely sheer, which Payen loves for all skin tones since it doesn't appear chalky.
To keep skin fresh all day, Payen kept this facial mist on hand. A few spritzes give a light layer of hydration that you can tap into the skin before touching up any makeup.
Filming during the summer months means sunscreen is a must. Payen opted for this French pharmacy favorite that she says is "not heavy on the skin, it's very soft."