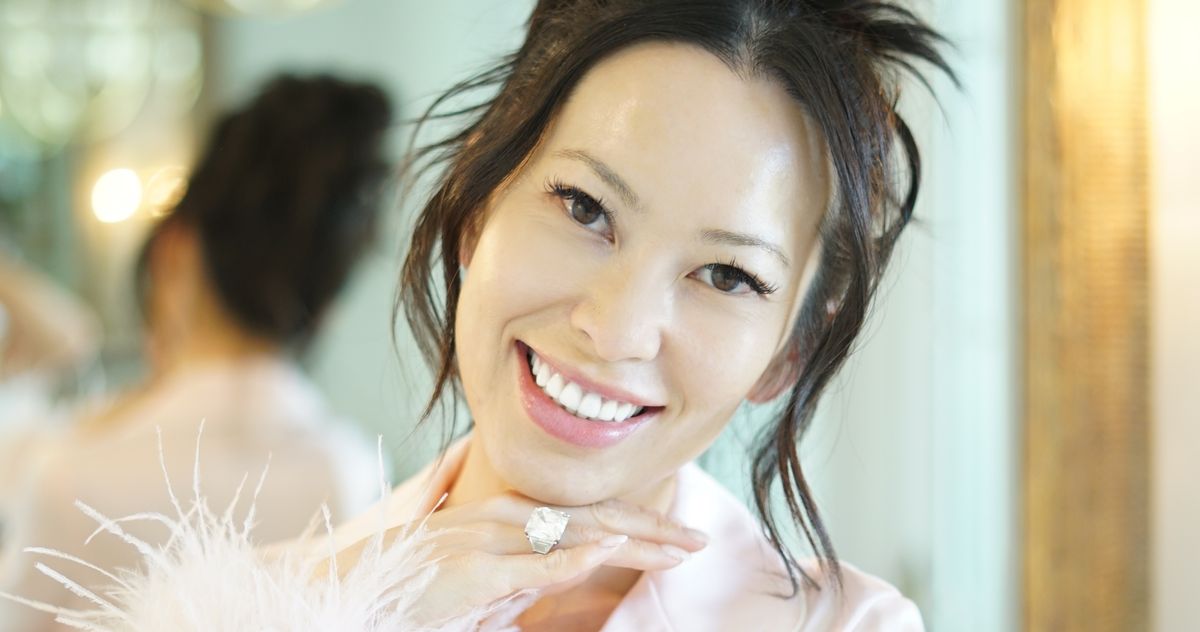 Bling Empire Star Christine Chiu's Skin-Care Routine
Do you ever see someone on Instagram and think, Why is your skin so good? We do,
Photo: Courtesy of Christine Chiu
You don't have to watch all of Netflix's reality show Bling Empire to understand that anything that Christine Chiu wants, she gets. And what she wants is haute couture and great skin care. For couture, she travels around the world picking up the most beautiful (and costly) creations from renowned ateliers. For skin care, she doesn't have to search quite as far. She simply goes to Beverly Hills Plastic Surgery, which she founded in 2006 and which is home base to her husband and first employee, celebrity plastic surgeon Dr. Gabriel Chiu.
Still, Chiu wasn't always interested in skin care. In fact, at one point, she wanted nothing to do with it. "I wouldn't say my mom was obsessed with skin care, but she was very respectful of skin-care traditions and protocols. For instance, when she was pregnant, she would eat crushed pearls and she would apply them topically to brighten the skin. She would only clean her face using rice water, which she would prep herself, because it is said to be both brightening and have anti-inflammatory benefits. She did a lot of face masks and drank herbal teas and avoided the sun at all costs," Chiu remembers. "I was so embarrassed because when she would take me anywhere, she always had an umbrella or parasol and she always wore gloves. Growing up with that, I actually rebelled against skin care. I'm not a psychologist or a psychiatrist, but when you watch your parents do so much of something, you go the opposite route, right?"
At best, Chiu would use bar soap from her local drugstore. At worst, she would lie out in the sun. "My mom would cry," she says, though she also notes that tanning wasn't just pure rebellion. "Part of it was that I grew up in a very Caucasian community, and I felt kind of like I stuck out a little bit without that golden glow or the holiday glow, so I did everything that my mom would be shocked and horrified to find me doing."
Then she founded her medspa, where she entered a new stage of her skin-care journey after a rude awakening with a Skinscope, which evaluates skin surface damage using UV light. "Oh my God, it was horrifying — it shows everything," says Chiu. "The Skinscopes are so advanced that you can fast-forward to what you will look like superficially at any designated age, at your pace, in your geographic region, your lifestyle. It's like an X-ray situation — it was so emotionally damaging to see not only my current state but also where I would be in my 40s or 50s if I just went along the same path. That woke me up, and now I'm on the catching up, corrective kind of phase of my skin-care relationship."
Now, Chiu says she'll try almost anything at least once — as long as it's vetted and approved by Dr. Chiu first. She started Botox and Dysport in her early 30s and fillers in her mid-30s, first in her lips and then her nasolabial folds. Chiu also loves "medical facials" with the works — light therapy, high-frequency, microdermabrasion, and ultrasound skin tightening are among her favorites. "I don't need to go to a facialist to take a nap — if I want to take a nap, I'll just take a nap at home," she says. "I need to go to a specialist who has advanced technology. I want to walk out of that facial feeling like you used every gadget in the room."
If it sounds high-maintenance and expensive, well, it is. But Chiu insists that it doesn't have to be the case for everyone. "My interior designer always drills this in my head: 'Christine, not every piece of furniture in your room needs to be a hero. There needs to be balance.' And I would say not every product on your vanity needs to be a hero, either. They don't need to be super expensive — you could have one hero product and some supporting-role products. They can all work together and serve their own function, and you'll be good."
Below, a breakdown of Chiu's current skin-care picks for her "complicated" and "temperamental" skin, including the face masks she wears during naps, the resurfacing serum she jokes could put Dr. Chiu out of business, and the only device she keeps at home.
"I love to start the day right, and by that, I mean feeling as great as I plan to look! Derma E is a gold standard in effective, ethical beauty. It's GMO-, cruelty-, gluten-, and soy-free and 100 percent vegan and recyclable — good for the environment, your skin, and your soul! It's just good karma. In the last two to three years, I've grown increasingly interested in CBD-infused skin-care products after having Dr. Chiu vet them out. CBD has a purported anti-inflammatory effect on the skin and is helpful in managing conditions like eczema, psoriasis, and rosacea. I find it calming for my skin, reducing redness and acne."
"These hydrating, cooling, and depuffing eye masks make sure whatever happens in 'Vegas' stays in Vegas. These are also one of my favorite tricks right before a Zoom meeting or interview."
"It's all and always about balance, and The Tonic ensures my skin is toned, refreshed, purified, and glowing. The marine-rich ingredients make me feel fresh and ready to take on the day."
"My favorite and most powerful daytime vitamin C serum not only reduces skin discoloration and improves smoothness, but also smells amazing — call me crazy, but this smells like delicious, complex, and finely aged wine! Maybe that's why I'm so addicted to it?! But really, while it works at reversing my appearance of aging, I have used this product for almost ten years and still swear by it. I prefer my vitamin C in gel form (versus a cream) because I feel it absorbs and sits better on my skin."
"Under-eye crepiness seems to be inevitable, until this secret weapon that firms and tightens the delicate skin around the eyes. I also love the roller applicator for a mini around-eye massage. Many people make the mistake of using one general face cream for everything and everywhere. Eyes are deserving of their own unique corrective treatment — as are necks, décolleté, and backs of hands."
"There's no better over-the-counter beauty product than U Beauty's Resurfacing Compound. With antioxidants, vitamins C and E, peptides, retinol, hyaluronic acids, and AHAs, the Resurfacing Compound can nearly put Dr. Chiu out of business … or at least prolong that visit to the plastic surgeons. Your skin gets an instantaneous lift and tightening following application — I would say one-quarter of the way through the product container, I was obsessed and started seeing the tightness and glow. I also love that it never feels heavy and actually feels like an extremely thin Saran Wrap pulling your face back."
"This fights 'tech neck,' 'turkey neck,' and your classic neck aging with expedited speed and effectiveness. I love the rich and luxurious texture as it moisturizes and firms the otherwise driest and most wrinkly part of me. I have been using for about one year, and results were visible after one bottle."
"The combination of not drinking enough water and constant application of lipwear has my lips often dry and chapped. This not only exfoliates my lips but also hydrates and plumps them. The added bonus is that the rosiness in lip color and enhanced lip contours make me kissable at all times."
"I love that this product adapts to my skin tone and acts as a foundation primer when I am applying makeup. The coverage is so perfect that most of the time, I simply don't use foundation following this sunblock. Also, since it does act as a foundation, I reapply it quite often just to smooth out my complexion. For the body, I use a children's SPF sunscreen in spray form!"
"This is the way I like to take my caffeine — spritzed and misted in my face! Caffeine-infused with vitamin E, it can be used in three ways: toner, primer, and makeup setter. It leaves my skin with a soft filter effect but without adding shine. Plus, it does not have a scent, but it does tingle — like a wake-up call for your skin!"
"The only thing better than adult napping for me is adult napping with facial (and foot) masks. The gold-standard staples are SK-II Facial Treatment Masks and SkinCeuticals Biocellulose Restorative Masks [below], which are both essentially mini, anti-aging facials, hydrating and revitalizing the skin. I also love to explore and treasure-hunt in Koreatown for the next best K-beauty, Japanese, or Taiwanese mask treatments. I will usually buy 10 to 15 at a time and test them out either during midday naps or at night while Netflixing. There have even been times I masked in the car while running errands."
"This is the only at-home device I use, since one of the perks of owning an aesthetic medical practice is having access to all the medical-grade beauty equipment and technology at the office. I love Dermaflash because it quickly exfoliates and preps my skin so that it can readily absorb the aforementioned products and ingredients. It also keeps me fuzz-free for a smooth makeup application and appearance."