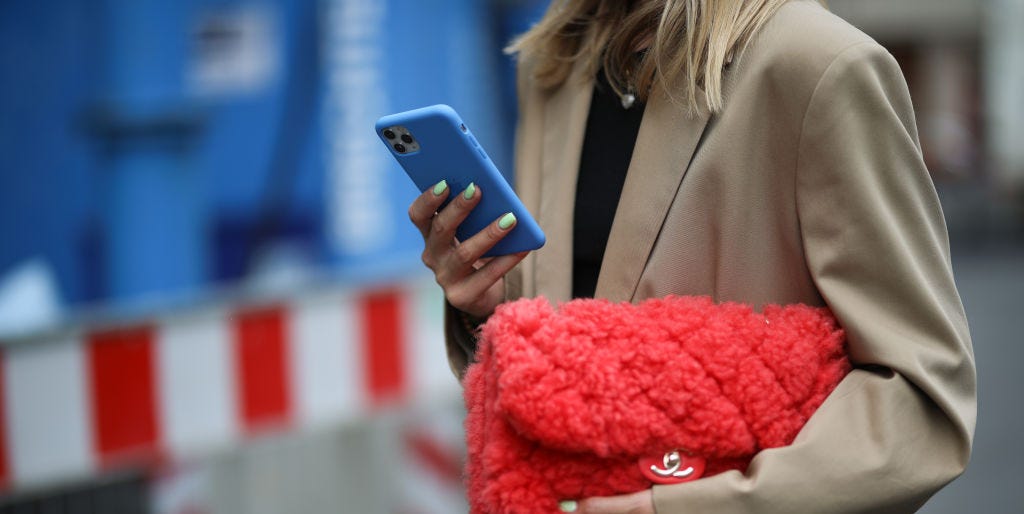 Best Prime Day Fashion Finds 2021
Jeremy MoellerGetty Images Prime Day 2021 is officially here, which means pretty much anything and
Jeremy MoellerGetty Images
Prime Day 2021 is officially here, which means pretty much anything and everything you could ever want from Amazon can be found on sale for the next 48 hours (or until June 22 at 12am EST). Think: AirPods, loads of beauty products, off-beat curiosities to gift as hostess presents, and more. What's even better is that this year's Prime Day deals include unexpected fashion finds, all on major discounts. Aside from a fresh crop of minimalist staples and workout clothes, we unearthed deals from Shopbop (which is a branch on the Amazon family tree) on romantic Ulla Johnson sundresses, Vince sweaters to live in for years to come, and royal-approved workout sneakers.
Because navigating Prime Day can be a maddening pursuit, we rounded up a definitive list of the can't-miss fashion deals to spare you the trouble. Just remember that these sales are here for a good time, not a long time. If previous Prime Days are any indication, there's a strong likelihood that many of the items ahead will sell out faster than you can even text your parents asking for their Amazon Prime password and login info. Here, the can't-miss fashion deals of Prime Day 2021:
1
Levi's Ex-boyfriend Trucker Jacket
Every celebrity from Zendaya to Gigi Hadid has been spotted in a Levi's denim jacket over the years. The brand's Ex-boyfriend Trucker style is a failsafe choice for its ever so slightly boxy fit that works well with everything. (I repeat: Everything.) 
2
Line & Dot Bianca Sweater Cami
Line & Dot
amazon.com
$69 $28 (40% off)
Three words: Date. Night. Top. 
3
IRO Han Leather Jacket
IRO
amazon.com
$1,265 $1,012 (20% off) 
Parisian rocker-chic label Iro makes some of the most suave leather jackets out there. Their Han style (which is currently full price everywhere else, even on Shopbop) is no exception. 
4
Terez Torch'd Gold Flame Bike Shorts
Terez
amazon.com
$78 $62 (20% off)
The flame motif takes these biker shorts up a notch in a way that just feels and looks right in this moment of the US reopening. 
5
Elleme Vague Shoulder Bag
Elleme
amazon.com
$445 $356 (20% off) 
Fun fact: This buttery leather shoulder bag from Parisian brand Elleme has been spotted on none other than Beyoncé. 
6
JW PEI Vegan Croc-Effect Crossbody Bag
Blink and you might miss this Prime Day lightning deal. JW Pei handbags can be scooped up for 25 percent off today, June 21 from 9:10 AM to 3:10 PM PST. 
7
14K Yellow Gold 1 Inch Diameter Round Hoop Earrings (25 mm)
Amanda Rose Collection
amazon.com
A pair of wear-with-everything gold hoops is a must. These are 14k yellow gold (which makes them a steal!) as you'll be able to wear these for years without any fear of tarnishing. 
8
Adidas Women's Ultraboost 21
Adidas
amazon.com
$180.00
$126.00 (30% off)
Proclaimed the comfiest shoe in the world by Adidas at the time of their release six years ago, Ultraboosts remain a cult favorite running and workout shoe for their comfort and sleek appeal. Fans include orthopedists everywhere (presumably), Meghan Markle and Justin Bieber. 
PS: This is the lowest price we've ever seen the 2021 iteration offered for on Amazon. 
9
Daily RitualJersey Sleeveless V-Neck Midi Dress
Daily Ritual
amazon.com
$21 $15 (30% off)
This lightweight dress is guaranteed to come in handy on those scorching hot summer days when you have no idea what to wear. It comes in 9 other solid colors (just in case light grey terrifies because of potential sweat stains). 
10
Calvin Klein Women's Invisibles Thongs (Set of 3)
When it comes to fitted dresses, no-show thongs are the real MVP of summer undergarments. 
11
Strong Hold Hair Claw Clips (Set of 4)
Claw clips are Fashion. This Tik Tok-famous set of four clips is beloved by reviewers and yours truly (I'm wearing the green one as we speak) for being comfy and durable. 
12
Theory Women's Overlay Mesh Pullover
Theory
amazon.com
$277 $221 (20% off)
The perfect summer sweater doesn't ex—. PS: This was originally $395 on Shopbop.  
13
Free People Palo Duro Shorts
Free People
amazon.com
$68 $54 (20% off)
Bold prints are having a major resurgence this season. Trendiness aside, these shorts are a versatile choice for summer as they can be styled with bathing suits, a going out top and heels or with Birkenstocks and hoodie on hungover bodega runs.
14
Villa Rouge Danica Square Toe Sandals
Villa Rouge
amazon.com
$155.00
$108.50 (30% off)
Taking a walk on the wild side is long overdue. 
15
The Drop Ana Silky V-Neck Midi Slip Dress
The Drop
amazon.com
$50 $29 (43% off)
Nothing pulls off laid-back luxury quite like a silky slip dress. This comes in a handful of other neutral hues as well. 
16
Sister Jane Best Wishes Embroidery Top
Sister Jane
amazon.com
$104 $83 (20% off)
Hot summer in the bodice and prairie in the puffed sleeves, this is a going out top to covet. 
17
Levi's Ribcage Straight Ankle Jeans
Levi's
amazon.com
Pair these Gen Z-approved straight legs with your favorite going-out top at night or a silk blouse for a smart casual office look. 
18
Illesteva Women's Leonard Mirrored Sunglasses
Illesteva
amazon.com
$194 $155 (20% off)
If there's such thing as a pair of universally flattering sunglasses, it's Illesteva's classic Leonard shape. For a pair of sunnies with timeless appeal, these are a noteworthy Prime Day deal this year.
19
Hilor One Piece Crossover Bathing Suit
Listen, 11 percent off doesn't knock my socks off either, but this tankini remains noteworthy because Amazon reviewers are obsessed with it. Currently Amazon's #1 best selling women's bathing suit, this boasts over 10k ratings with an average of 4.4 stars. 
20
Vince Mirrored Rib Pullover Sweater
Vince
amazon.com
$365.00
$255.50 (30% off)
Vince sweaters can last for years if they're taken care of properly. Here, a chunky knit that'll seamlessly transition from chilly summer nights to cozy winter dates. 
21
Sleeveless Spaghetti Strap Satin Dress
Should you find yourself in need of an affordable wedding guest dress, peep this viral Tik Tok dress that comes in 20+ colors. 
22
Vintage Retro 70s Aviator Sunglasses
Freckles Mark
amazon.com
$13.98
If these tinted yellow lenses look familiar, it's because they also went viral on Tik Tok this year. Here, an accessory that'll be fun have on hand for (S)hot Girl Summer outfits.
23
SOKO Fanned Stacking Rings
SOKO
amazon.com
$128 $102 (20% off)
Add some drama to your stacking game. Aesthetic appeal aside, we love how SOKO's jewelry is handcrafted by artisans in Kenya who use recycled brass, upcycled horns, and traditional techniques.
24
SOKO Sabi Signet Ring
SOKO
amazon.com
$53 $42 (20% off)
Signet rings go way back—think Mesopotamia and King Tut. This option, also from Soko, is a was originally $88 on Shopbop.
25
PAIGE Jemma Puff Sleeve Zip Romper
PAIGE
amazon.com
$229.00
$141.47 (38% off)
Here for this flirty spin on utility jumpsuits. 
26
Self Portrait Faux Leather Lace Trimmed Romper
Self Portrait
amazon.com
$238 $190 (20% off)
This faux leather Self Portrait romper serves major looks all while requiring the bare minimum effort on your end. It was originally $475 on Shopbop too. 
27
Hat Attack Women's Washed Cotton Crusher Hat
Hat Attack
amazon.com
$55 $44 (20% off)
Aside from shielding your forehead from the sun, a bucket hat is a must for channeling one's inner VSCO girl energy. This option from Hat Attack just so happens to be one size fits all too. 
28
Rodarte Floral Bouquet Silk Slip Dress
Rodarte
amazon.com
$966.00
$676.00 (30% off)
This Rodarte slip should come with some kind of plaque or trophy for best dressed wedding guest. 
29
Rodarte Belted Silk Pleated Collar Dress
Rodarte
amazon.com
Behold, another Rodarte dress that's worth daydreaming over. This silhouette totally channels the British Royal family too. 
30
WAYF Emma Puff Sleeve Lace Top
WAYF
amazon.com
$89 $67 (25% off)
It might be a few months before you're able to wear this lacy winter-skewing top, but it'll be worth the wait. 
31
Ulla Johnson Naomi Dress
Ulla Johnson
amazon.com
$355 $249 (30% off)
The feminine details on this Ulla Johnson frock lend romance.
This content is created and maintained by a third party, and imported onto this page to help users provide their email addresses. You may be able to find more information about this and similar content at piano.io