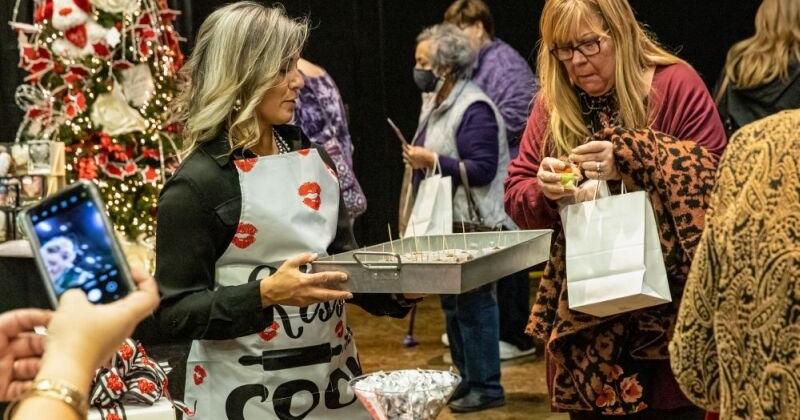 A Day for Women: Event to feature fashion vendors, beauty and health advice and more | Life
The 2023 Day for Women is back for its 19th year of doing what it
The 2023 Day for Women is back for its 19th year of doing what it does best – giving busy women a day of relaxation.
"We will have anything you can imagine women would enjoy doing," Lauren Ballard, advertising and event coordinator, shared.
The event normally draw around 500 people and includes a lot of different activities throughout the day.
Dr. Patricia Jane Sulak, MD, will be the event's guest speaker, discussing several important topics throughout the day. A certified doctor of obstetrics and gynecology, Sulak is a graduate of the University of Texas Health Science Center in San Antonio. She currently serves as a professor with Baylor, Scott & White Texas A&M School of Medicine. The keynote luncheon address will be "Got Stress? Finding Peace and Joy in the Storms of Life."
"She'll be speaking about how we seem to be living in a more stressful time and how we can overcome that stress," Ballard explained. "She'll also talk about aging and how to slow it (the aging process) down, as well as about the difficulty involving change."
The event will take place from 9 a.m. to 4 p.m. Saturday, Jan. 28, at the Frank W. Mayborn Civic & Convention Center, 3303 N. Third St. in Temple. It will feature more than 45 vendors with anything and everything one could imagine – makeup, boutiques, non-profits, shows and demonstrations. There will be several door prizes given throughout the day, as well as a grand prize, which Ballard said is normally valued at approximately $500.
The large event is presented by the Temple Daily Telegram and Tex Appeal magazine. Sponsors include Baylor, Scott & White as the title sponsor, Precious Memories gift shop and Jack Hilliard Distributing Company.
Tickets are $10 for general admission, which includes access to all the vendors and presentations. A $30 ticket includes general admission and a luncheon featuring the guest speaker.
Luncheon tickets are limited to the first 350 people. Tickets may be purchased at the Temple Daily Telegram, 10 S. Third St. in downtown Temple, or online at centraltexastickets.com. General admission tickets can also be purchased at the event.
---
---
Vendors will be accepted through Jan. 6. Non-profit vendor booths include a 10×6 foot space with a six-foot long skirted table, two chairs and an ID sign. Traditional vendor booths include a 10×10 foot space with an eight-foot long skirted table, two chair, an ID sign and one 1/8 page full color ad in the "Day for Women" special section of the Temple Daily Telegram. Vendors may also purchase larger ads, if desired.
To purchase tickets, request a vendor space or other additional questions, call 254-778-4444.
Link:  Day For Women Vendor Agreement