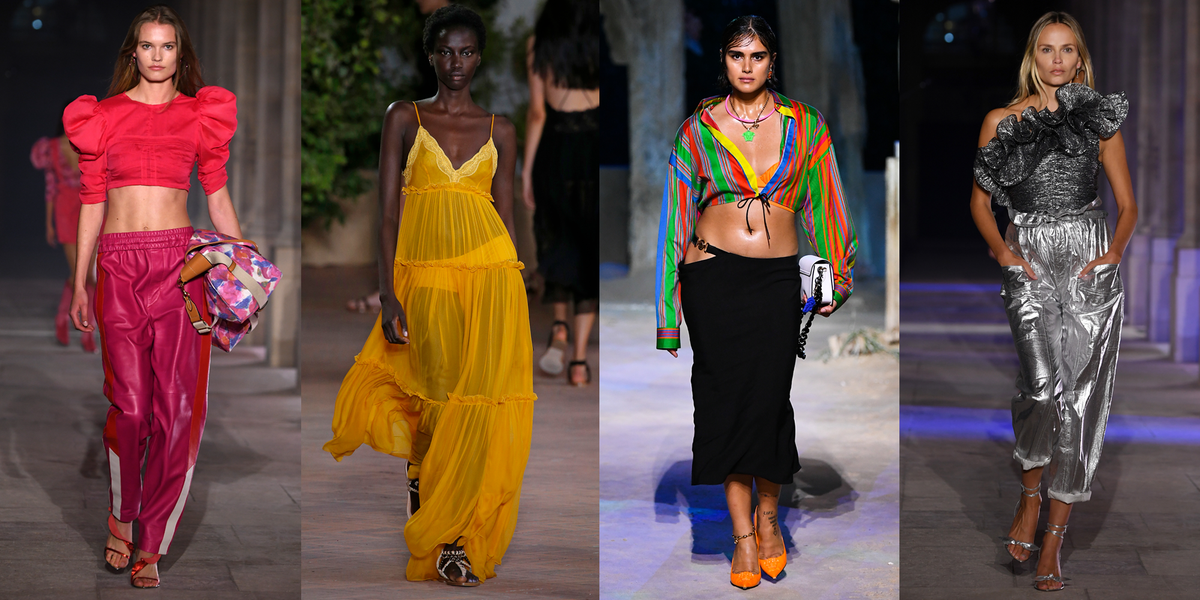 9 spring summer 2021 fashion trends to know
After a year of changing from pyjamas into loungewear and then back into pjs every
After a year of changing from pyjamas into loungewear and then back into pjs every day, we are SO ready to look ahead and see what the warmer months have in store for us in the style department. And, lemme tell you, the spring summer 2021 fashion trends will definitely renew your excitement for getting dressed each morn.
We've scoured the runways of Paris, London, Milan and New York to bring you a cheat sheet for next season's biggest trends – because anyone who's seen The Devil Wears Prada knows that trends start at designer shows before working their way down to the high street within a matter of months.
From the colours and fabrics you'll want in your wardrobe to the cool details you'll start seeing everywhere, here are the nine main spring/summer fashion trends to know this year:
1. Crop tops
Nothing screams 'summer' quite like crop tops – the top du jour for SS21. Layer a bandeau style under a blazer jacket (Hermes) for a warm-weather take on tailoring, or try a printed bralette style (Alberta Ferreti, Jacquemus, Versace, Dior), which will look right at home when trips to the seaside resume. Alternatively, embrace all things 'extra' with statement puffy sleeves and embellishment (Isabel Marant, Versace) for evening cocktail vibes.
Shop the trend:
2. Puffy sleeves
Voluminous sleeves are back for another season and, to be honest, we couldn't be happier about the larger-than-life detail sticking around. Wear with statement trousers (Isabel Marant, Alberta Ferreti) for a fun 'day to night' look, or with short shorts and sexy split skirts (Jacquemus, Alberta Ferreti) for sun-worshipping park hangs. And the puffy sleeve midi trend ain't going anywhere, folks, with soft white cotton or silky leather options offering a fresh spin on the laid-back look (Gabriela Hearst, Isabel Marant).
Shop the trend:
3. Cut outs
We can already envisage the funky tan lines that are going to come out of this season thanks to the emergence of quirky cut-outs. Give your sundresses a little bit of edge with a flash of skin around the waist (Fendi, Gabriela Hearst, Acne, Isabel Marant) or an unexpected detail at the hips or thighs (Versace, Kenzo). Aloe vera not included.
Shop the trend:
4. Sheer
The sheer trend isn't everyone's cup of tea, but this season brings with it a range of cool new ways to embrace the trend if you've been waiting for the right one to tempt you. Layer semi-sheer maxi dresses over your bikini for beach-inspired '70s chic (Alberta Ferreti, Dior), or wear as an additional layer over your mini dresses (Balmain, Fendi). Option C? Shrug a blazer over the top of a sheer slip (Fendi) or rock it in skirt form and team with an opaque top (Kenzo, Balmain) – whatever floats your boat, folks.
Shop the trend:
5. Glitter
For those craving a little *sparkle* in their wardrobes, you'll be glad to know that SS21 is all about embracing glittery goodness. Think metallic silver dressed featuring cut-out details around the stomach (Paco Rabanne, Balmain), statement jumpsuits (Isabel Marant) and twinkly trouser suits (Louis Vuitton).
Shop the trend:
6. Wrap-around straps
Swimwear-worthy straps, wrapped around the waist, add a little holiday touch to your long sleeve tops. Team with silky midi skirts (Acne, Jacquemus) or loose trousers (Acne) and finish with a pair of open toe sandals for an instant 'pass the Aperol' mood.
Shop the trend:
7. Pastel
When shopping for new season buys, designers are looking to ice cream shops for inspo. Soft sorbet hues bring a little sweetness to everything from billowing maxi dresses (Alberta Ferreti, Fendi) to dungarees (Isabel Marant) and even trouser suits (Hugo Boss).
Shop the trend:
8. Wide leg trousers
High- waisted '80s-style office trousers, cropped culottes and utilitarian cargo pants are all back this season. Team with a bralette or lace-inspired top (Chanel, Kenzo) for a more feminine finish, or layer on the tomboy chic with slouchy matching jackets (Sportmax) and retro slogan sweatshirts (Louis Vuitton).
Shop the trend:
9. Netting
Fishnet-inspired materials are actually surprisingly chic and offer a slightly different take on the sheer trend. Throw an open knit midi dress or skirt (Acne, Dior) over your swimsuit for a vintage off-duty feel. Alternatively, if you're after a more boujee look, try layering your wider style mesh over a LBD (Hermes).
Shop the trend:
Follow Natasha on Instagram.
The latest issue of Cosmopolitan UK is out now and you can SUBSCRIBE HERE.
Like this article? Sign up to our newsletter to get more articles like this delivered straight to your inbox.
This content is created and maintained by a third party, and imported onto this page to help users provide their email addresses. You may be able to find more information about this and similar content at piano.io