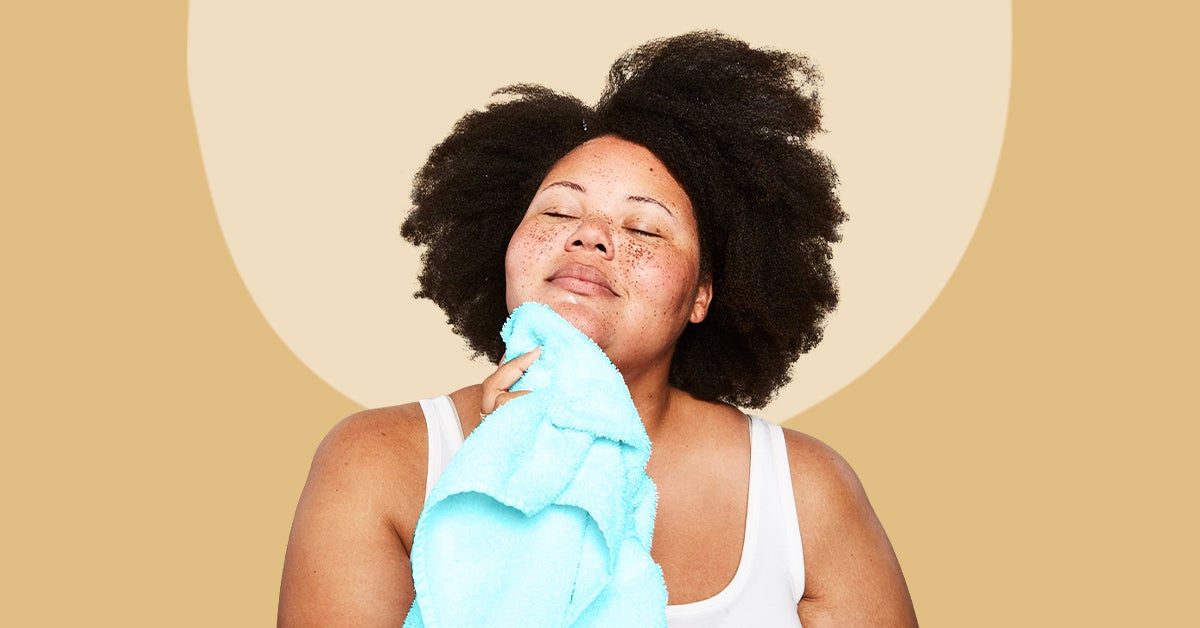 7 Best Oil Cleansers of 2021
Rubbing oil on your face to clean it probably sounds like a one-way ticket to
Rubbing oil on your face to clean it probably sounds like a one-way ticket to breakouts, clogged pores, and greasy skin.
But what if I told you that oil cleansing is, hands down, the best approach to skin care I've ever tried — and that my skin has never looked better?
Oil cleansing can be wildly effective, and, once you understand the process, it all starts to make perfect sense.
"Cleansing the skin with an oil-based product, like a cleansing oil, is based on the chemistry adage that 'like dissolves like,'" says Carolina Prioglio, the founder and chief formulator at Maison/Made.
Oil cleansing lets you gently and effectively remove daily impurities, debris, makeup, and sunscreen without stripping moisture or freaking out your skin's microbiome.
And it really couldn't be easier — especially if you're currently stuck in a complicated, multi-step skin care routine and still experiencing various skin woes.
Here's what you need to know about why oil cleansing works and how to do it properly, plus my picks for the best oil cleansers around.
If you're picturing rubbing oil on your skin, you're halfway there. There's a little more to it than that.
Types of oil
When it comes to cleansing, not any old oil will do. You'll want to choose something that's noncomedogenic and organic.
"Sunflower oil is my favorite for oil cleansing and moisturizing, because it helps repair the skin's protective oil barrier and is noncomedogenic (so it won't clog your pores)," shares Denise Cartwright, master esthetician and the founder of CRUDE.
Safflower oil and jojoba oil will also do the trick, and there are others, too.
"You can use a single-plant oil, such as moringa oil or passion fruit oil, but a targeted formula that addresses cleansing while restoring and nourishing the skin is ideal," Prioglio says.
Cleansing process
Oil cleansing is a two-step process you can do 1 to 2 times per day. Here's what you'll do:
Smooth the oil onto dry skin. I love this part. It's a calming ritual that combines a little aromatherapy with gentle lymphatic massage, particularly around any areas prone to congestion.
Rinse away the oil, and, with it, all the yuck that's collected on your skin throughout the day.
Sounds simple, but it's important to note that simply splashing water on your face to rinse probably won't do the trick.
"Keep in mind, water and oil repel," Cartwright notes. "It's difficult to effectively remove an oil cleanser from your skin with just water."
Instead, you can use a damp microfiber cloth to help gently sweep everything away. This will leave your skin fresh, clean, and clear of the day's various accumulations, with none of the tightness so common to traditional cleansers.
And that's really it. Many cleansing oils double as a moisturizer and leave your skin so hydrated that you don't need anything else.
Still, feel free to follow up with a few drops of your favorite facial oil, serum, or balm if you want to.
A gentle exfoliating mask once per week is also a good idea.
Oil cleansing is a refreshing change from foaming cleansers, which may clean your skin but not without potentially aggravating it at the same time.
"All foaming cleansers, no matter how gentle or plant-based, have the potential to negatively affect our lipid barrier and microbiome by varying degrees," says Shelley Beaumont, a holistic esthetician and the manager of partnership and education at Laurel Skin. "That squeaky-clean feeling we're all familiar with is actually the absence of our lipid barrier."
Contrary to popular opinion, that's not a good thing. Your lipid barrier and microbiome are both important, since they help protect your skin from the elements, inflammation, and water loss.
And as Beaumont adds, "It's very difficult for our skin's lipid barrier to replenish itself if it's stripped daily."
However, oil cleansing works with your skin's microbiome, not against it. Because healthy skin is a direct reflection of a balanced, diverse, and happy microbiome, doesn't it make perfect sense that your skin care products need to nurture that environment?
"Instead of washing off the good stuff, only to repair the damage with expensive, biome-disrupting serums and creams, oil cleansing takes a 'leave no trace' approach," Cartwright says.
Cleansing the skin with just a few simple, organic ingredients helps avoid disrupting your skin's natural functions.
Yes, pretty much.
"By cleansing the skin without stripping or disrupting its natural ecosystems, oil cleansing helps your skin come into homeostasis on its own, whether you're dry, oily, sensitive, or anything in between," Cartwright explains.
That's true, even if your skin is on the oily or acne-prone side.
"We often hear that, to combat oily skin and acne, oils should be almost completely avoided," Prioglio notes. "But oil cleansing is as much of a universal practice as can be. It benefits skin with different tendencies or in different states, like dryness or oiliness, by balancing and strengthening the skin's protective barrier."
It's possible. But don't panic, and don't give up.
"It can take the skin and its ecosystems some time to adjust to your new oil-cleansing routine," says Cartwright. She recommends staying the course and only using the oil cleanser for a least a month to see how it works with your skin.
Also, keep in mind that there can be other things at play if you're breaking out.
"The internal state of the body, with its own imbalances, often expresses itself on the skin, meaning that breakouts and acne are complex and usually not simply a one-to-one reaction of what's applied topically," Prioglio explains.
If you can't wait to get started with oil cleansing, here are seven of the best products to try.
Pricing guide
$ = under $25
$$ = $25–$50
$$$ = over $50
This was my very first experience with oil cleansing, and I was an immediate convert.
A quarter-size amount of oil, warmed in my palms, is enough to cleanse my entire face and neck.
The perfectly-named Pull cloths also sold by CRUDE are just right for gently wiping — never tugging — my skin clean.
A little chaser with my favorite facial oil (or a few drops of Cleanse), and my skin looks, and feels, like a million bucks.
CRUDE was created by Cartwright as she was dealing with breakouts. After oil cleansing proved effective for clearing her acne, she started helping others get started with oil cleansing. She now has a full line of soap-free products.
Plus, CRUDE cleansers are among the first in the world to be certified microbiome-friendly.
I have a weak spot for garden-to-bottle products, and Maison/Made leads the pack.
Made with plants grown in Burgundy, France, and formulated in New York, this is certified biodynamic skin care. In other words: This is good stuff, coming straight from a flourishing French herb garden to you, with limited productions, expiration dates, and everything.
I find the cleansing oil impressive on multiple levels. There's the floral-printed paper packaging that encases the sleek dark bottles.
And then there's the oil itself, which smells fresh and downright intoxicating in that telltale botanical way. It's rich and vibrantly colored, and smoothing it on feels truly indulgent.
Maison/Made products are designed to be decadent and effective, and really, I think they nailed it. It's like a little mini spa session that leaves my skin wonderfully healthy and supple.
For this formula, Maison/Made chose various oils for cleansing, balancing, restorative, and nourishing properties, and the expertly-blended finished product is magical.
Liquid gold is the right description — this stuff is amazing. The rich cleansing oil is billed as a moisturizing makeup remover, but it's so much more than that.
The oil tackles even the most stubborn waterproof mascara with ease, and it leaves my skin bright, fresh, and clean.
Ogee's hero ingredient, organic cold-pressed jojoba oil, comes from a sustainable farm in the United States.
The formula is rounded out with frankincense, elderberry, and brown sea kelp extract for calming, firming, and moisturizing properties.
Laurel Skin is a seed-to-bottle skin care line focused on 100 percent whole plant organics and slow-farmed beauty.
They use more than 150 plants, all of which they source from a mix of organic and biodynamic farms in California. Twelve of these plants find their way into the incredibly potent Deep Clarity Oil Cleanser.
A trio of oils — sesame, safflower, and sunflower — pair with relaxing essential oils and a mix of powerhouse regenerative ingredients. The brand chose the oils to deliver the ideal deep pore cleanse.
Laurel cautions that this oil cleanser might be too stimulating if you already have a compromised skin barrier. But it's great for a weekly deep cleaning ritual.
Pair this cleanser with a warm towel to stimulate circulation, lymphatic drainage, and deep connective tissue release.
Tata Harper is a pioneer in luxury natural skin care. Once you're familiar with that signature green and gold, it's hard to miss.
This is a fairly extensive product line, and, yet the Nourishing Cleansing Oil still manages to stand out. The multi-vitamin oil is made with 26 high-performing botanical ingredients. Together, they break down gunk and dissolve makeup like a dream, all without stripping the skin.
I think Tata Harper's oil cleanser smells divine and cleanses beautifully, leaving my skin feeling soft and supple.
Pai's rosehip fruit extract cleansing oil is dubbed "the heavy lifter," a gentle, yet highly efficient, oil formulated for sensitive skin and eyes (but suitable for all skin types).
This sting-free skin care tackles waterproof makeup, SPF, and daily grime, leaving my skin softly nourished and radiant.
Light Work works differently than other oil cleansers. Apply as usual to dry skin and enjoy the massage. Then, add a few drops of water to create a light milk before rinsing or gently wiping clean.
The subtle emulsifying action is cleansing, balancing, and softening, and the whole thing is just a treat.
Yes, technically this is a pre-cleansing step, not a one and done. But Savor Beauty's Coconut Jasmine Pre-Cleanse Oil still made my list.
Distilled coconut oil and sunflower seed oil melt away makeup, lavender deeply cleanses pores, and jasmine and gingko leaf help give skin a soft, even texture.
Coconut oil can be problematic for some, but don't panic — pre-cleansing means you're smoothing it on and then taking it right off again.
Angela Jia Kim, the founder of Savor Beauty, explains that using her pre-cleansing oil as part of a double-cleansing routine is true to Korean skin care routines. With this method, you layer a gentle cleansing cream directly over the cleansing oil and repeat the massage before rinsing well.
We've been told for years that oil-free products are the only way to clear skin. Turns out the opposite is true.
Forget the idea that oil-free products will yield gorgeous skin, and get on board the oil-cleansing train. Your microbiome will thank you; I promise.
After speaking with the experts, it's clear that, when it comes to great skin, less really is more.
Jessica Timmons has been working as a freelance writer since 2007, covering everything from pregnancy and parenting to cannabis, chiropractic, stand-up paddling, fitness, martial arts, home decor, and much more. Her work has appeared in mindbodygreen, Pregnancy & Newborn, Modern Parents Messy Kids, and Coffee + Crumbs. See what she's up to now at jessicatimmons.com.