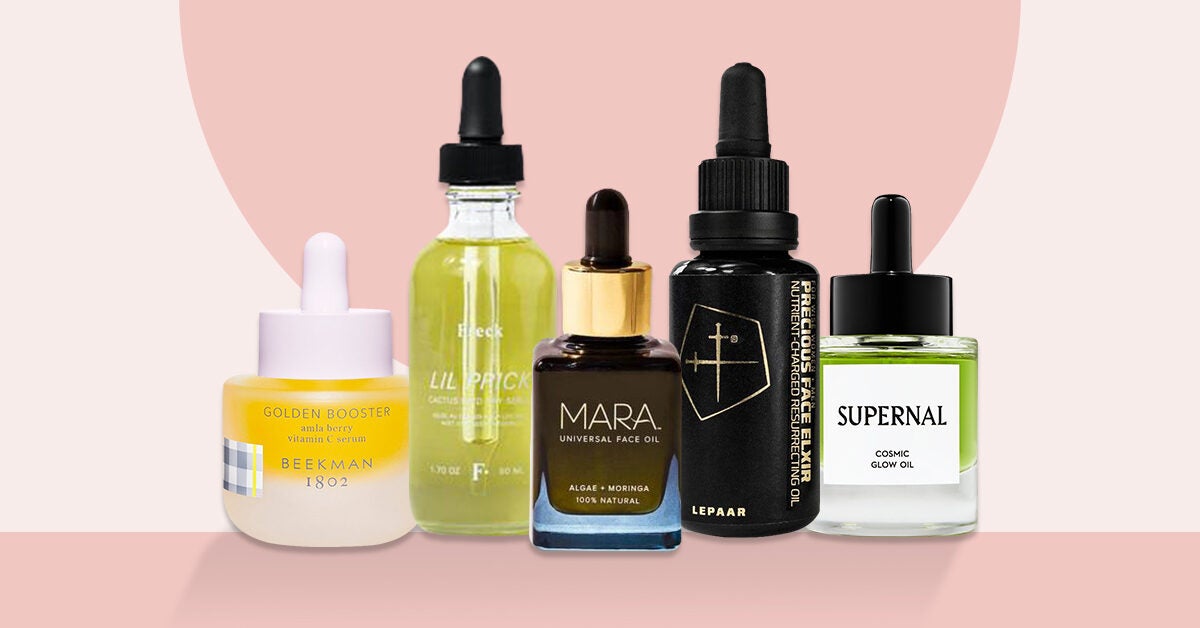 11 Best Facial Oils of 2021: Dry, Oily, Blemish-Prone Skin
For most of my life, facial oils were never really on my radar. My skin
For most of my life, facial oils were never really on my radar. My skin care routine involved cleansers, moisturizers, spot treatments, and the occasional mask. But rubbing oil all over my face seemed like an unnecessary — and problematic — step. And I wasn't alone.
"Every skin care campaign of my youth made oil out to be the enemy," says Jenna Levine, founder of LINNÉ. "Every product was oil-free and formulated to strip acne-prone skin of all sebum present."
Kelly Gold, the spa and fitness director at The Club at Rancharrah and a licensed aesthetician, had the same aversion. "When I first entered the skin care field over 20 years ago, the words 'oil' and 'skin' used together in the same sentence made me cringe."
Of course, we all eventually learned otherwise. Facial oils are like magic in a bottle. And, after taking a crash course in facial oils (courtesy of experts, like Levine and Gold), I can promise you this: You probably need one, no matter how dry, oily, or blemish-prone your skin may be.
The hard part is deciding which one is right for you. But don't worry — I found 11 of the best facial oils to help you get started.
As the name implies, a facial oil is, indeed, an oil designed for your face. It's a workhorse, capable of tackling all kinds of issues.
Facial oils can "help to seal in moisture, restore the skin's lipid barrier, regulate sebum production, and provide vital nutrients to the skin — including a concentration of reparative and regenerative fatty acids," Levine says.
That's not all. "Facial oils can also provide a protective layer from the daily elements, seal in a serum, smooth lines, and soothe skin," Gold says. "A therapeutic-grade facial oil can penetrate deeper into the skin, delivering its already natural infusion of properties, like omega fatty acids, polyphenols, and antioxidants, for instant results."
Facial oils can be used by anyone. "They act as a great base for makeup and can be great for facial hair care," adds Melissa Medvedich, a certified aromatherapist and the founder of Supernal.
All this, and facial oils feel amazing, too. Just a few drops absorb quickly into your skin, leaving you glowing and perfectly hydrated.
If you're worried, as I was, that rubbing oil into your skin will make you greasy, shiny, and ripe for breakouts, fear not. I was pleasantly surprised that all the facial oils I tried soak right in. There wasn't any glaring shine, greasy leftovers, or suspicious breakouts in the days to follow.
The key is finding a well-made oil that's right for your skin type. I have a few tips for that.
"Not all oils are curated in the same way," Gold says. She advises looking for facial oils that are certified organic, raw, cold- and fresh-pressed, and unrefined.
"Those steps give you the most beautiful, nutrient-rich benefits topically on the skin. Oils that are beautifully hued and have an unmistakably fresh and earthy fragrance are usually good indicators that they are pure and unrefined."
Commercial oils that are chemically refined or altered lack these features. They also have far lower levels of antioxidants, enzymes, and nutrient loads — all the good stuff that benefits your skin.
"These essential ingredients are vital for skin health, including clarity, hydration and protection against environmental damage that accelerate the aging process of the skin," Gold notes.
Typically, your skin type should inform your choice of oil. There are facial oils made with all kinds of ingredients, and they're chosen for specific benefits.
Generally speaking, lighter oils work best on oily skin, while dry skin benefits from rich, occlusive oils.
"Know your skin type," Levine advises. "If you are blemish prone, you will want to skip comedogenic oils, such as coconut, soybean, palm, and flaxseed oil. Dry skin may benefit from more occlusive oils. But oily and acne-prone skin should choose anti-inflammatory, oil-regulating oils, like hazelnut, jojoba, and perilla."
Levine says all skin types should avoid synthetic oils. These can create an illusion of nourished skin — but they don't actually help skin on the cellular level. She also suggests staying away from mineral oils.
Check the label to see what's included. Many companies highlight the benefits of the ingredients in their formulas and indicate the skin conditions they seek to remedy.
"Make sure to pay attention to which ingredients work best for your skin and you'll be in good shape," Gold says.
Keep in mind that virtually all skin types will benefit from adding a clean facial oil to their daily skin care routine, including oily, acne-prone skin.
"It's a myth that oily skin should avoid oil," Levine says. "The right oils, such as jojoba and hazelnut, can help regulate sebum production. Oils also help lock in moisture, leaving your skin hydrated and nourished."
Levine also says that some people with acne could have lower levels of linoleic acid in their skin's surface lipids. Adding omega-6 fatty acid-rich oils, such as black cumin seed, may help.
Of course, adding anything new to your skin care routine takes some care. "Face oils can be a great addition for any skin type, but, as with any new skin care product, it's always best to proceed cautiously and do a test patch, Medvedich says. "Adding a few drops of face oil to your regular moisturizer is also a great way to experiment with incorporating an oil into your regimen."
As I went down the facial oil rabbit hole, I started wondering about the difference between oils and serums. Both seemed to be concentrated, oily products packaged in similar glass bottles. Are they really different? Is one better than the other?
As it happens, there are some similarities, but there's also an important distinction.
"Oils help deliver nutrition to skin and help seal in hydration. Serums are generally used to address specific skin concerns, such as fine lines or hyperpigmentation, and [they] are usually lighter in molecular weight," Medvedich explains. "That said, I think there can be hybrids between a face oil and a serum."
Think of serums as booster products. "A serum shouldn't be used as a moisturizer," Gold notes. Rather, it's "a boost to combat dull or lackluster skin, pigmentation, fine lines, or wrinkles, or to protect from future damage."
If you're using a facial oil and serum in tandem, use the serum first. Then apply the facial oil to help seal in the serum, so you get the full benefit of its ingredients.
Here are a few facial oils I tried and liked.
Pricing guide
$ = under $40
$$ = $40–$75
$$$ = over $75
A good facial oil is a must-have in any skin care routine. Oils are the secret to perfectly hydrated, glowing skin — who knew?! — and that's really just the start.
Again and again, I read reviews from people who were just as impressed as I was by their suddenly dewy, moisturized, smooth skin — all because they took a leap of faith on a high-quality facial oil.
Yes, many facial oils come with a premium price tag. But a little goes a very long way, and you get what you pay for. There's no benefit to a synthetic facial oil or one made with low-grade ingredients, so spring for the good stuff if you can. I promise, you'll be so glad you did.
After adding a facial oil into my nighttime routine, I was impressed by the appearance of my skin upon waking up: bright, soft, smooth, and hydrated.
Turns out, that "I woke up like this" thing is the real deal when you're using a great facial oil.
---
Jessica Timmons has been working as a freelance writer since 2007, covering everything from pregnancy and parenting to cannabis, chiropractic, stand-up paddling, fitness, martial arts, home decor, and much more. Her work has appeared in mindbodygreen, Pregnancy & Newborn, Modern Parents Messy Kids, and Coffee + Crumbs. See what she's up to now at jessicatimmons.com.